This post may contain affiliate links. If you use them we will earn a small commission but it won't cost you anything extra
If you're a regular ourtravelingzoo.com reader, you know we are able to do our traveling largely thanks to our decision to teach overseas. We've called it our single biggest travel hack. We've frequently been approached by people who wanted to know how we got into teaching abroad, because teaching in international schools is an intriguing gig. We've been more than happy to share our personal experiences.
The process of landing international teaching jobs can be rather complicated, involving assembling materials for recruiters, trips to job fairs, interviews with schools, and gathering necessary paperwork for visas and the like.
That's enough to put some people off from the idea. Recently, we learned about a new app that is being launched in July 2020 to help streamline the experience for all concerned (both teachers and schools in search of teachers). This sounds like a very promising venture, and when we had the chance to talk to the owner of Edventures Recruitment, we jumped at the chance.

Mohammed Saghier and Cedric D'Souza are the men behind Edventures Recruitment. Saghier was born and raised in London, Ontario, Canada. He worked as a classroom teacher, year leader, Peer Coach and Middle School Principal during his decade abroad. D'Souza, who hails from Mississauga, Ontario, spent seven years abroad in international education. He has recently been brought on board to develop partnerships with international schools and teacher training programs around the world.
We interviewed Saghier via Skype. Our conversation was wide-ranging, running the gamut from the reason for his teaching abroad to finding love overseas, and of course what the Edventures Recruitment app is and what Saghier aims to achieve with it.
The Man
Saghier's story is familiar although it is a little different from ours. "Post-graduation there were no jobs available in my home province. I hopped on a plane to get some full-time teaching experience," he explained. Just like us, he says living abroad provided him with a rich variety of experiences and travel. "Ten years later, I've travelled to 30 countries, paid off all my student debt, met my wife and seen a world much bigger than the one I grew up in."
Saghier spent seven of his years teaching abroad in Kuwait and three years in Qatar. To begin with, he worked in a government school in Kuwait, and we laughed because some of the things he dealt with sounded remarkably similar to what Shon encountered in the UAE's government schools. After two years, Saghier received a glowing recommendation from his principal and moved to a different school. Not only was the environment there a bit more familiar (i.e., less crazy), Saghier met a lovely teacher named Sahar, who lived in the same apartment building provided for teachers. As it turned out, she also hailed from Canada—not too far away from Saghier's hometown. The school provided transportation for teachers, and Saghier and Sahar rode the bus together. They became fast friends and more, falling in love and tying the knot. Eventually they decided that a change might be in order, so they flew to Thailand to attend a job fair. This was a time-consuming and expensive proposition, with hotel stays, airfare, food, and fees for the job fair. They met with disappointment, as they didn't receive a single offer. However, just 3 weeks later, Saghier's old school called and offered him a job as Middle School Principal. In this same stretch of time, he obtained his Master's in Educational Leadership. The first of the Saghier's two children was born in Kuwait, as well.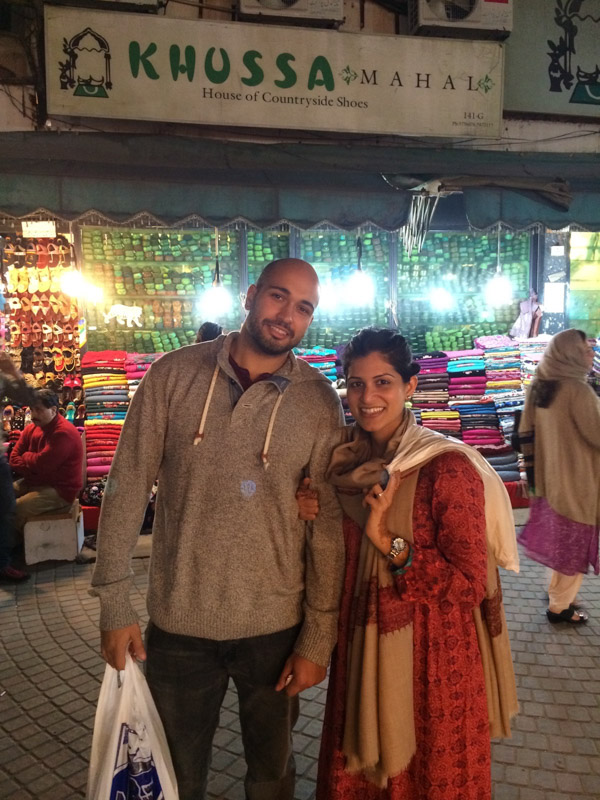 When Saghier became an administrator, he learned how time consuming and expensive it is for schools to make international hires. "Our school spent $20-30,000 a year recruiting teachers," he said. "That's not including the visa paperwork; it's just the cost of using a recruitment agency, paying commissions, and so forth." He highlights commissions. "If we needed 5 teachers and summer was getting close, we'd offer an extra $500 per head to the agency." Now that the recruiters had more financial motivation to drive teachers toward their school, teachers, unsuspecting, would find themselves being pushed toward a place which might not be their honest first choice. Put another way, instead of looking for a place where individual teachers fit best, the impetus was to steer people to Kuwait, where the recruiter stood to make $2500 more than usual.
Saghier and Sahar still had the urge to move somewhere new, but things were going well enough that they stayed put for some time. After 7 years in Kuwait, they moved to Qatar, where they lived and worked for the next 3 years. "We loved Qatar. It's a great place for families," Saghier said. That's also where they welcomed child number 2. Despite having good experiences, they decided to move home to Canada to raise their children. We can strongly identify with the desire for children to have a home place, although we haven't quite made the leap to settle back home yet.
It was very clear that the Saghiers loved being overseas. They were able to gain "experience, money, adventure, and friendship" as a result of teaching abroad. This brings us to the genesis of the Edventures Recruitment app.
The App
Saghier says, "I spent time on both sides of the recruitment process – both as a teacher using a recruiter to find a job as well as being a principal using recruiters to hire teachers. My experiences with recruiters were good at times and less good at other times. Having been on both sides of the fence I realized how truly time consuming and expensive it was to recruit and be recruited. Using my lived experiences, I came up with the idea to use technology to simplify the process."
We've noted that even after nearly a decade working abroad, we still find that if we use a recruiter, we have to go through quite a rigmarole. We wind up doing lots of paperwork before we're even able to communicate with schools. In most cases, the process is redundant, too—we have to assemble references, go through a recruiter interview, upload a CV and fill out an application, and finally gain access to openings at schools. In some cases, we won't even know the names of the schools until we've expressed interest and gotten the recruiter involved in being the go between. Then it's time to proceed with an interview, during which the prospective employer may or may not accept the materials we have on file with the recruiter. In other cases, we find open positions through the recruiter and end up having to apply through the school's website anyway, supplying the same information all over again—time consuming and tedious, to say the least.
Saghier recognized this process could be streamlined for both those who aspire to be teaching in international schools and the schools themselves.
"We've utilized technology to bring the recruitment process more up to speed with the resources we have available to us. We've built algorithms into the code of our app that works to funnel teachers and schools towards each other based on commonalities between the two. We are also membership based which means schools can save money recruiting from us as they don't need to pay per candidate as they do with traditional recruiters. As we are membership based, we can be open and transparent with the information shared over the app, which allows schools and candidates to connect in real time through our messaging system rather than through a recruiter. All the information we collect from schools and teachers is relevant to the recruitment process and matches candidates to schools accordingly."
The Edventures Recruitment app will go live on July 1, 2020; by then it will have taken 13 months from start to debut. If you have a somewhat entrepreneurial bent, it's interesting to learn what went into creating the app. Saghier wasn't able to do all the work himself, so he used UpWork to bring the concept to fruition. His concept drawings (called wireframes) went to a Bangladeshi designer who completed the design. This was cost effective, but nonetheless cost $2500 out of pocket. From there, Saghier sought a developer. It took him 20+ interviews with development teams to find one he trusted and felt was a good fit, as well as reasonably priced. "That's when my experience as a principal doing interviews came in handy," he said. "I learned about programming and development language as I went. I'd hear a phrase from one developer and write it down, then research it afterward, and so forth."
Saghier noted that it probably would have taken only about 6 months from start to finish if cost was no issue. Since he funded the entire project out of pocket, however, he had to be conscious of expense. Now that the app is close to its debut date, Saghier is truly excited about it. When we asked about his single favorite thing about the app, he responded without hesitation.
"Honestly, I am so excited about so many parts of the app as I know it's been built with teachers and schools in mind. However, if I had to pick one thing it would be the ability to upload a 1-minute video to the app where teachers can explain their educational philosophies. Cover letters are boring to read and tough to write. We allow candidates to promote themselves and what is important to them with these 1-minute videos. School recruiters will enjoy this feature as well, as they can make more informed decisions on who they'd like to interview by viewing these videos."
Saghier's enthusiasm is infectious. We found ourselves growing excited about the prospect of using the Edventures app next time we seek a position. It seems like the job search process will be far less arduous.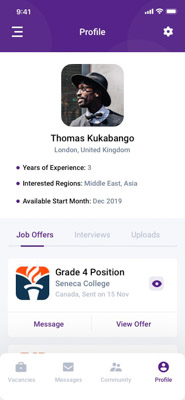 Saghier stresses that using the Edventures Recruitment app doesn't have to be an all or nothing proposition.
"We don't believe this needs to be an Us vs. Them situation. At our price point – $20 CAD/year – you can use our service as well as other services to help cast a net big enough to find that 'just right' job. We are an alternative in the market for any teachers or schools who are looking for recruitment." One important element of the The Edventures Recrutiment app is that it should help to avoid situations like the one Saghier mentioned earlier where recruiters have their own interests in mind when placing teachers. "If teachers are looking for a platform with no third-party interests, we can fill that void."
This seems like a legitimate and logical addition to the recruitment and job search arena. That said, we have mixed experiences with international schools. Two were exactly what we'd heard they would be. On the other hand, another was run horrendously (to the degree that only one teacher stayed beyond his initial contract, and many left before theirs ended), but the recruiter—despite awareness of the situation—continued to actively recruit for them. This was no doubt a situation where commission was involved, but commission be damned, recruiters who know a school is problematic should not funnel teachers toward it. Considering this, we asked about the vetting process for schools.
"Our platform is an open market, therefore teachers are expected to do a little research about a school before accepting an offer. I am working on a partnership with ISR (International Schools Review) for discounted memberships to their site so that teachers can learn about schools before accepting offers. In the event that it comes to our attention certain schools within our network are operating dishonorably their access would be revoked. Lastly, our marketing campaign is exclusively directed at schools I know have reputable dealings with the international teaching community."
Besides offering Edventures Recruitment as a tool for schools and teachers to make teaching abroad simpler, Saghier hopes the venture "becomes such a success that I can use our platform to fund scholarships around the world for children with limited access to proper education."
If you're searching for an interesting, ultra-modern way to start exploring the international teaching world, or if you're an experienced teacher trying to streamline the recruitment process, we would love to hear your opinion about the Edventures Recruitment app. If you are interested in giving it a try, click this link and enter the discount code OTZ100 for a completely free 1-year membership. Let us know what your experience is like. If you're able to get a job through the app, we'd love to know where you go and how it suits you.