This post may contain affiliate links. If you use them we will earn a small commission but it won't cost you anything extra
We are a family that travels light – the only times we bring full-size suitcases is when we are moving internationally. The rest of the time, it's carry-on only: a couple of small rolling suitcases and a couple of backpacks. Unsurprisingly, I have perfected both my packing skills and the contents of the toiletries/make-up bag over the years. Here is the Our Traveling Zoo's list of the best toiletries for carry-on. At the time of writing, everything on this list is under $20 and the cheapest item is $2.97! All of the pictures are clickable links.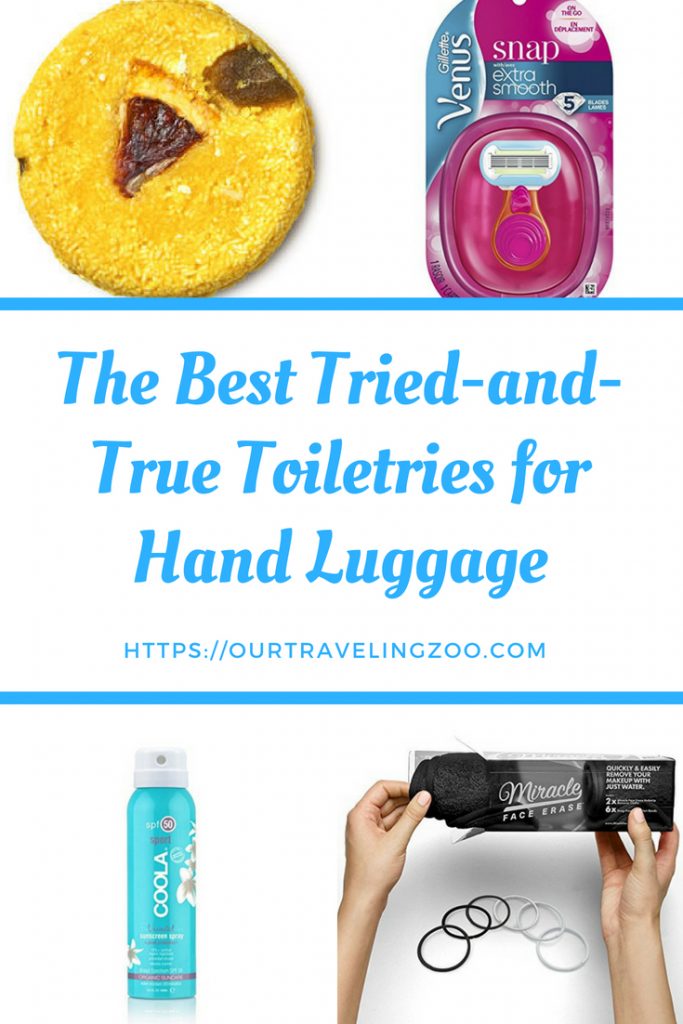 Toiletries
Travel Toothbrushes
Let's start with the essentials. Granted, you can just throw your regular toothbrush in the bag but it is easy to forget, especially if you have a morning flight. We prefer to have some extras on hand and just keep them together with other travel toiletries. There are quite a few options out there. There are great folding toothbrushes that have a built-in cover to keep the head clean:
There are also little single-use toothbrushes called Colgate Wisp that don't require water OR toothpaste and are great for short trips (and for those pesky long overnight flights)
And for those who like electric toothbrushes, there are the Electric Travel Toothbrushes by Violife. They all come with 1 AAA battery, a replacement head (you can buy more replacement heads) and have a ventilated cap.

Razors & Blades
While we use Dollar Shave Club razors and blades whenwe are staying put, we actually have a Gillette On-the-Go razor for traveling. Despite its size, it fits all the Venus blades and the case is actually big enough to keep an extra (unpacked) cartridge in it.
As for the blades, I spend a little more and buy Comfortglide or Breeze cartridges which allow me to NOT bring along shaving cream since they already have built-in shaving gel.

Hand Cream
I've been using True Blue Spa Paraffin Super Softening Hand Lotion for well over a decade now and their travel-sized hand cream is the one I pack for the trips (and keep in my purse). It is rich but not sticky, with a mild citrusy fragrance. This hand lotion kept my hands soft through winters in both Utah and Russia.
UPDATE! Bath and Body has rebranded this hand cream and it's now called "Hand Hero" and looks like this:
If you prefer a lighter texture, check out Hand and Nail Cream by Caudalie:
Shampoo & Conditioner
I stopped packing liquid shampoo and conditioner 5 years ago when I discovered solid shampoo and conditioner at Lush. I carry them in little tins I also purchased at Lush. Like all Lush stuff I've tried so far, they work really well and last for a long time.
Sunscreen
While not every trip requires sunscreen, it's nice to have something trustworthy on hand. Supergoop makes their famous sunscreens in travel size (It's SPF50! It's oil-free!):

Lip Balm with Sunscreen
My kids are crazy about this tangerine-flavored lip balm from Alba Botanicals that has SPF18:

I also heard great stuff about this Supergoop balm that boasts SPF30:

Make-up Remover/Face Wash
I don't carry a make-up remover when I travel – who needs an extra bottle of anything in their bag? – but I do carry one of the microfiber make-up removing cloths like this one or this one. They hardly take up any space and remove make-up and dirt with just a little bit of water.

Travel Kits
If you'd rather somebody else did the legwork for you, you are in luck because there are some really nice travel kits out there. Acure has a kit that includes a facial scrub, a face cream, shampoo, and conditioner:
And here are some great "Assemble-your-own" kits. The silicone one contains 4 bottles in different sizes (they have adjustable labels!), 2 jars, a toothbrush cover, and a tiny spoon. The transparent plastic kit contains 4 bottles (one has a pump, one is a spray), 2 jars, and 3 tiny tools. Use them to bring convenient travel sized portions of your favorite lotions, soaps, and etc.
TSA-Approved Toiletry Bags
TSA doesn't make life easy. The liquids in your carry-on need to be in a clear bag with the volume of no bigger than a quart (1 liter). Here are some bags that meet the requirements and are quite a bit more convenient than Ziploc bags 🙂

Bonus: Make-up
My current favorite mascara is made by Blinc. It stays put all day and comes off with warm water. Perfect for traveling! Bonus points: the company doesn't test on animals.
Clinique LashPower mascara is another good option and has been my go-to until I discovered Blinc.
EcoTools makes really good travel sets of make-up brushes: here is a set of 4 travel-sized brushes as well as a retractable kabuki.

I realize that this doesn't cover everything. What about toothpaste? We usually use the sample-sized toothpaste from our trips to the dentist or buy travel-sized tubes of it at a local pharmacy. Body lotion? I bring back those little bottles of it from our hotel stays. Face cream? I either put my current face cream of choice into a little jar from the kits I showed you above or just bring a sample.
Speaking of samples, here is an extra trick: I get one or two Birchbox boxes every year. If you are not familiar with the concept, it's a subscription box company. For $10 a month you get a box with 5 or 6 samples, and they are good ones. Like I said, I get 1 or 2 boxes every year and usually end up with some face creams/cleansers/serums/primer and some hair styling samples that will last me for at least a couple of trips (the samples are decent size and never foil packets in my experience.)
The Best Toiletries for Hand Luggage
It's rather obvious that everybody's list will be different. Do you have any of the same items in your toiletries bag? What are some of your favorites that have withstood the test of time and distance?