This post may contain affiliate links. If you use them we will earn a small commission but it won't cost you anything extra
We'd never heard of Chester luggage until we were contacted by a representative from the company. We learned Chester Travels has been around for over two years now, and they're seeking to make some waves with high-quality, low cost luggage. The Chester representative asked if we would be interested in trying out one of their bags. We agreed, and a few days later we had a new piece of luggage arrive in the mail.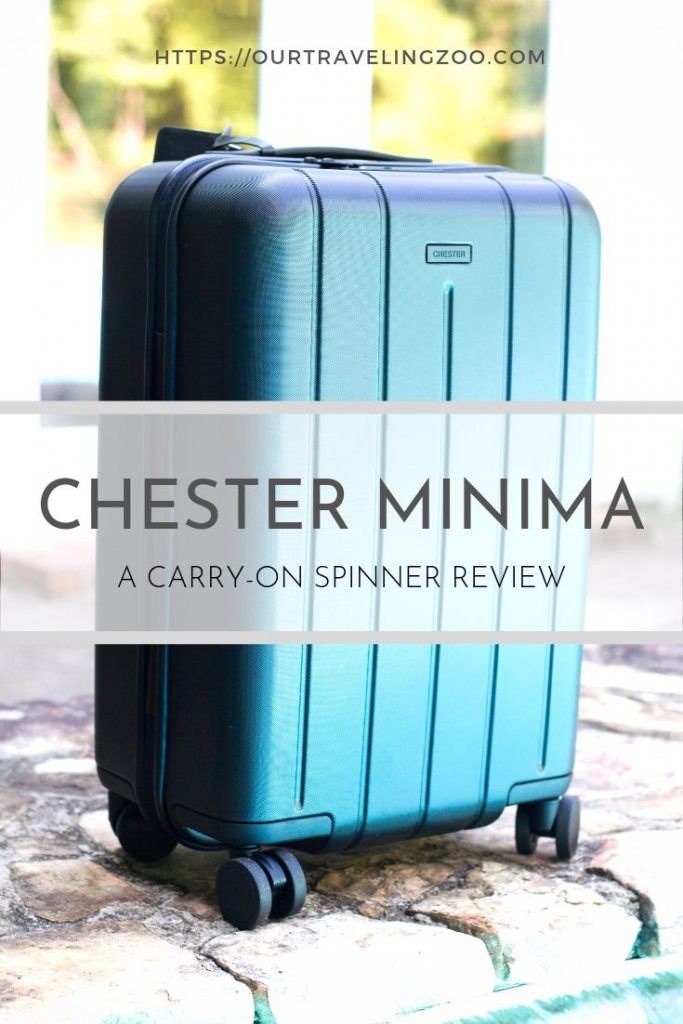 Here is a real-world luggage review written after two months of using this suitcase during both a 3500 mile road trip and trans-continental international air travel (our most recent trip to China involving 3 separate flights).
The Chester Minima is a hard-sided carry-on sized spinner suitcase (measuring 21.5 inches x 13.5 inches x 8.5 inches) which conforms to cabin-baggage size regulations. It is made of lightweight polycarbonate and looks snazzy. It features a zippered 50/50 opening with a TSA-approved lock. It's really light and its four wheels are effortlessly maneuverable. This thing makes a good first impression.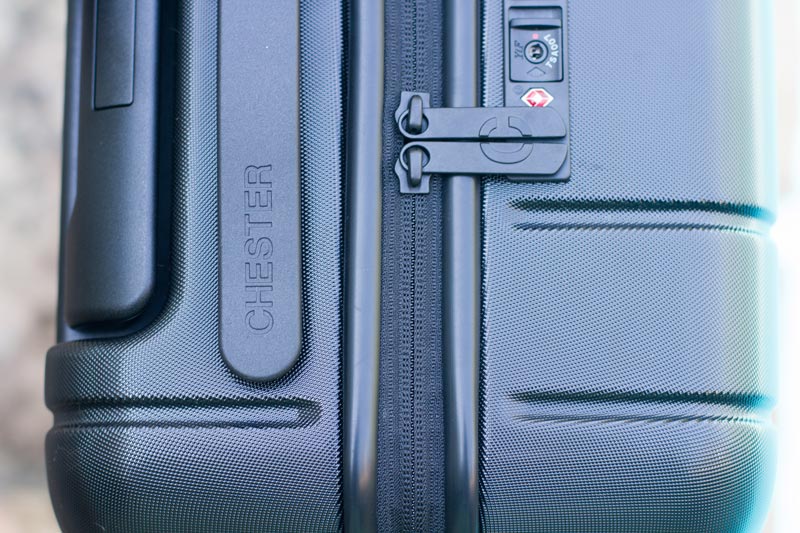 Speaking of that good impression, the Minima comes wrapped in a fabric cover that secures over it with velcro. We assumed this was to keep the sharp-looking textured exterior, well, sharp-looking, as the thing will scuff on hard surfaces. As it turns out, the cover is just meant to keep it looking like new when it's shipped to its owner. If you try to use the cover when you actually travel with the suitcase, it won't hold up. In any case, regarding scuffs, the ones we collected did seem to wipe away without leaving lasting marks.
The small Minima accommodates more clothing than we expected. The rectangular shape and tidy placement of the handles means space is optimized nicely. I (Shon) recently spent a week in Massachusetts for a work-related trip, and all of my clothing–lightweight casual and business casual for five days, plus a bulky sweatshirt and my toiletries–went into the Minima. Both compartments have zippered pockets on the separating panels, so I tucked my socks and undies into those. I found it easy to keep stuff neatly organized.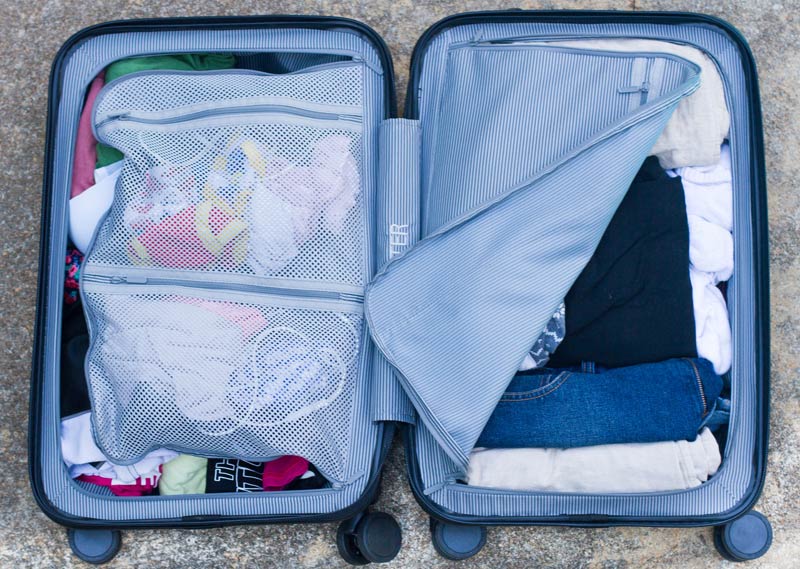 A thoughtful detail is an included laundry bag that stores tidily inside a purpose-made pocket when empty, or fills one of the compartments perfectly when full. It also matches the suitcase lining. No need to carry an old plastic bag for dirty laundry anymore.
One potential drawback of the clamshell style is that it requires more room to open than soft-sided luggage which doesn't need space to unfold. It takes a couple of uses to adjust to this if you're accustomed to a different sort of case, but it isn't a problem in most situations.
One nice thing about this 50/50 split style of hardshell suitcase is that weight is easy to distribute evenly and the suitcase is unlikely to fall over when it's being rolled. That contrasts sharply against our long-serving soft-sided bags, which can get tippy because weight inevitably ends up proportioned oddly.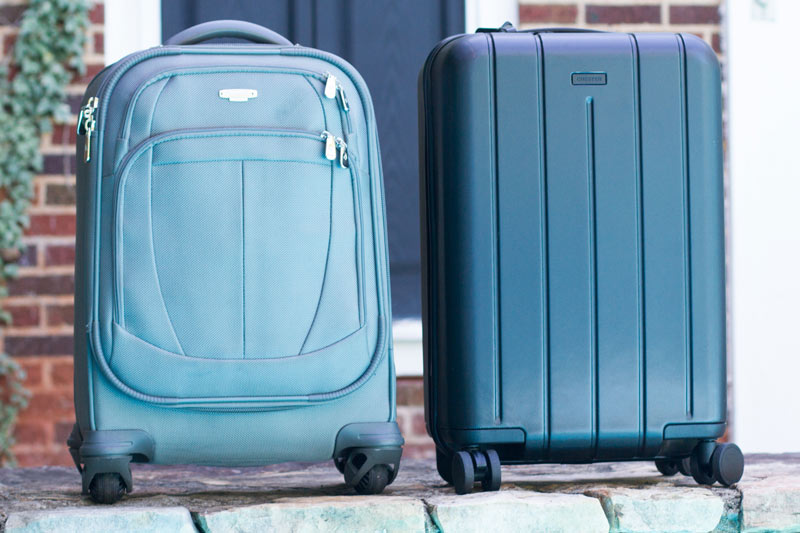 An important aspect of a spinner suitcase is the ease with which the wheels roll. This is where the Chester case truly excels. As I said earlier, it rolls effortlessly.
Another aspect of a wheeled case that bears consideration is the amount of noise it makes rolling around. The quieter the wheels, the more elegant. To that end, Chester advertises that their wheels are silent. Shon decided to put this to the test. On textured asphalt surfaces, there's minimal rumble from the Minima's wheels (Minima rumble?). On wooden floors it's almost inaudible. On concrete (even textured concrete), there's virtually no noise at all. When you run over seams such as those on sidewalks, there is still sound, as you might expect, but that's probably not something we can blame on the wheels. So the claim of silent wheels rings largely true.
So, overall, this is a really nice suitcase. There is, however, one aspect of the Minima that doesn't meet the refined levels of perceived quality throughout: the telescoping handle. Though it works fine, it feels a tad flimsy and has a hard plastic handle which feels cheap to the touch. The edges of it are rather angular, accentuating the issue. The shape of the handle allows it to take up less space, but surely it could be sculpted to feel better in the hand.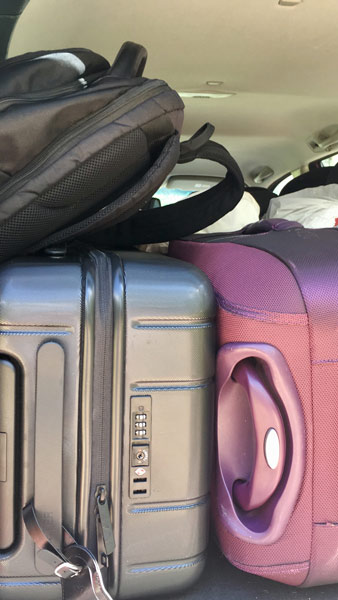 We thought the fabric cover was meant to keep the suitcase looking new when being hauled in and out of overhead bins. It turns out that's not the case, however, and as such it fares poorly if you use it during travel.
In the end, Jenia and I both like the Minima. We have been very pleased as we put it to use and agree that it is a classy, quality piece of luggage that should hold up for many years to come. If something does break, however, there is a 10-year-warranty, so we have no reason for concern. Interestingly, if you buy directly from Chester Travels, they offer a free 30-day trial period.
Disclosure: we were provided a piece of luggage in exchange for writing an honest review of the product. The opinions expressed in the review are our own and are not in any way influenced by others.
For more recommendations from Our Traveling Zoo, check out these posts: