This post may contain affiliate links. If you use them we will earn a small commission but it won't cost you anything extra
When you mention swamp tours, everyone immediately thinks of Everglades NP in southern Florida. However, one doesn't have to go that far south to spend a day learning about alligators and spotting them. Okefenokee Swamp sits on the border of Georgia and Florida and offers some great opportunities for spotting wildlife.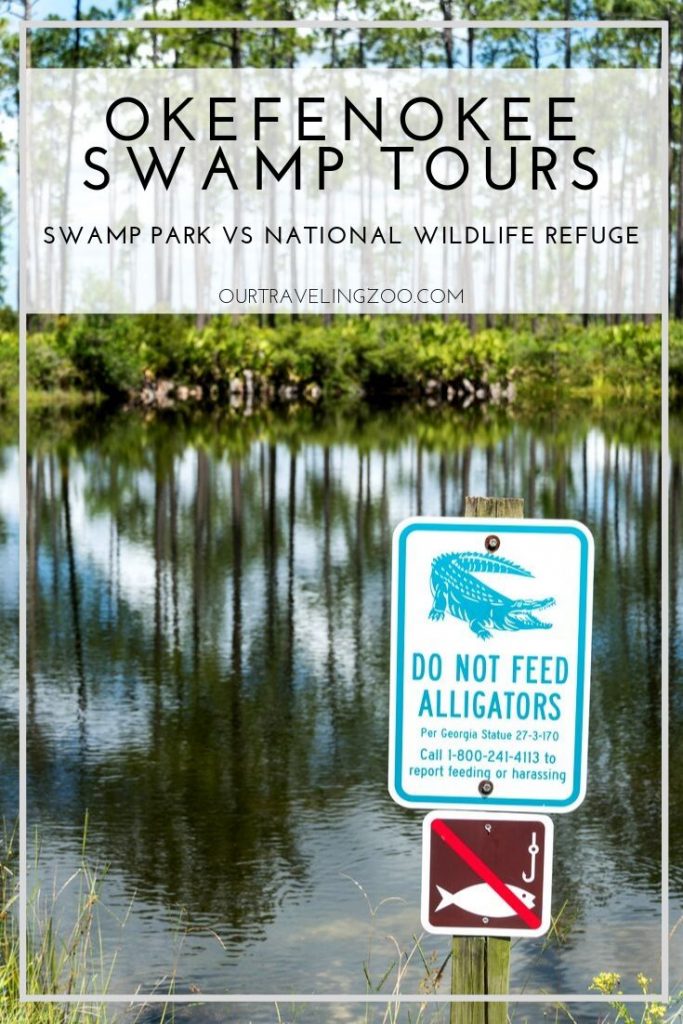 Okefenokee Swamp
At about 700 square miles, Okefenokee Swamp is the largest blackwater swamp in the United States, and a National Natural Landmark. It's a peat-filled bog so the color of the water resembles the color of strong tea. Most of the area is protected by the Okefenokee National Wildlife Refuge and the Okefenokee Wilderness but there is also a privately run Okefenokee Swamp Park on the northern side.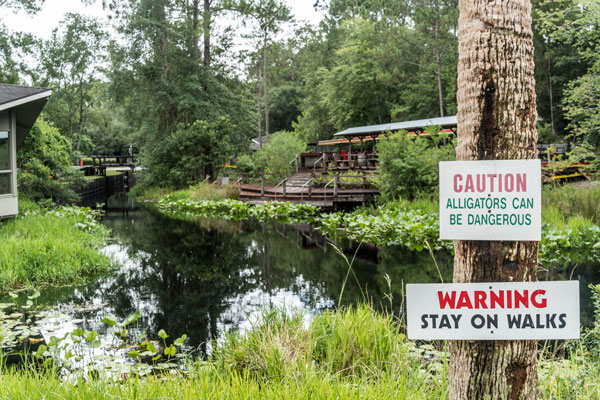 Native American tribes of Deptford, Swift Creek, and Weeden Island Cultures have been living in the area as far back as 2,500 B.C. and there are 74 mounds to prove it. The name itself is of a Native American origin, though points of view on it differ. It's most commonly said that it comes from the Choctaw word meaning "trembling earth". However, it may have come from Hatchiti for "water-shaking".
Which Okefenokee Entrance Do I Need?
There are several entrances to the Swamp – some will say there are 4, some will say 5. Basically speaking, you can access Okefenokee from Folkston, GA, Fargo, GA, and Waycross, GA.
Folkston entrances will take you to the National Wildlife Refuge, Fargo entrances will take you to Stephen C. Foster State Park, and the Waycross entrance will take you to Okefenokee Swamp Park.
We have done 2 Okefenokee swamp tours on 2 separate trips to the famous swamp and have visited both the Wildlife Refuge and the Swamp Park. We will share our experience and let you make the choice of what will work best for you.
Okefenokee National Wildlife Refuge
Okefenokee NWR was established in 1936. It is home to 233 species of birds, 49 species of mammals, 64 species of reptiles, and 621 species of plants (about a dozen of them carnivorous).
$5 per vehicle buys a daily pass that's good for 7 days. This gives you access to the Swamp Island Drive, Chesser Island Homestead, and the Boardwalk. There are hiking trails and you can also bring your own canoe or rent ($32 per solo kayak per day) on the spot and set off exploring the 120 miles of the canoe trails.
There is a lovely visitor's center with very friendly and helpful staff and quite a few things for the kids to do. There is also a cafe that serves a variety of sandwiches, salads, and snacks. There were vegetarian options, too! We were happy with ours.
On our trip to the Wildlife Refuge, we did the drive, visited the homestead – the house was locked but the kids discovered a working water pump and had a blast with that, and walked the boardwalk all the way to the Owl Roost Tower in hopes to spot some 'gators. No such luck! Our oldest was getting rather desperate so upon our return to the main entrance we headed to Okefenokee Adventures who run several different kinds of swamp tours: a 90-minute one, a sunset one, and extended ones geared towards birders and photographers.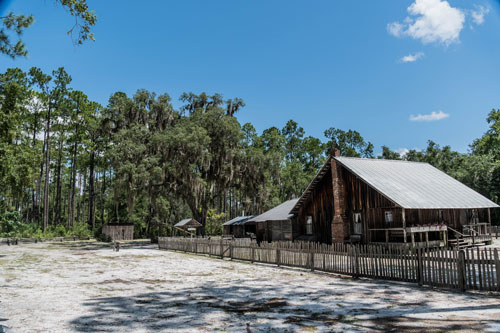 We opted for the 90-minute tour ($20.25 per adult and $12.75 per kid aged 5-11), donned our life vests, and embarked on the adventure. There were 5 or 6 other people on the boat. Much like on our whale-watching tour, everybody was encouraged to keep their eyes peeled and to call out if they thought they spotted something.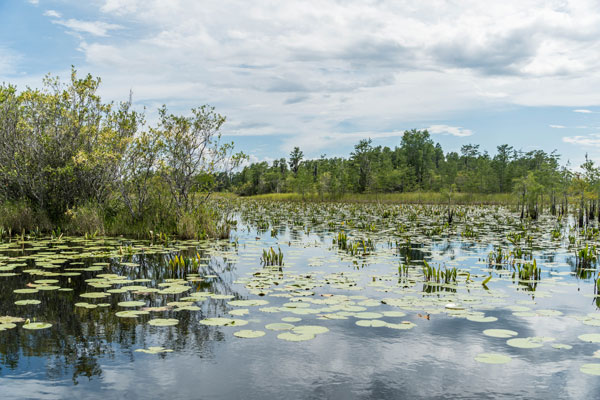 It didn't take long for us to spot a blue heron, a snake bird, egrets, and turtles. The alligators were a lot more elusive. As our guide kept repeating, there are tons of them around and for each one you see there are several you don't. Eventually, we all figured out what to look out for, and saw at least 5 gators (one of them huge) before the boat tour was over.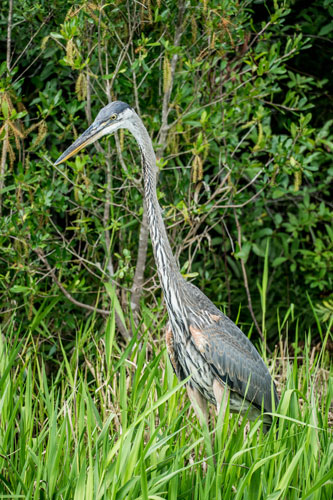 The guide was a fount of knowledge about the Okefenokee Swamp, its wildlife, and the plants in the area. The kids had a blast looking for wildlife, keeping track of what they saw, and measuring the depth of the swamp with an oar.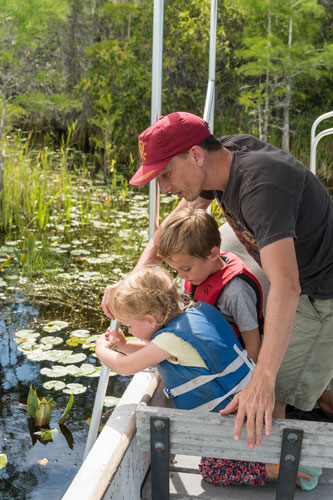 Okefenokee Swamp Park
The Swamp Park is a private non-profit. The admission to the park is $16-17 and includes a ride on Okefenokee Railroad, admittance to "Eye on Nature" educational show, and access to the Boardwalk, Primitive Trail (when accessible), and the exhibit buildings. You can also purchase a boat tour/admission combo ticket for $27 per adult and $22 per child.
The Swamp Park is significantly busier than the NWR. Unlike the NWR, which now encompasses a lot of wide open space, the Swamp Park was not affected during the West Mims wildfire that ravaged the southern portion of the swamp in 2017. Accordingly, this place looks more like you might imagine. It's shady, very lush and, of course, swampy. Large cypress trees, Spanish moss, etc.
There are boat tours offered which are about the same as the NWR ones but only 45-minute-long, and there are boardwalks and an observation tower as well. There is also a recreated homestead, and the aforementioned train ride. This place is geared a lot more toward entertaining visitors.
The tour guide we had was knowledgable and engaging. As was the case with the NWR guide, this fellow was a Okefenokee-area native. He told us that alligators cannot be tamed, although they can become accustomed to people.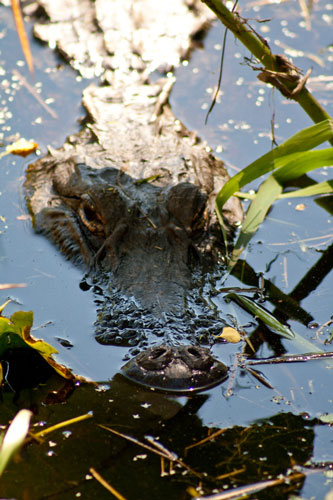 Now, speaking of alligators, this is what we were most excited about seeing. Although we did eventually see a few on our boat tour at the NWR, we saw more at the Swamp Park. In fact, we saw several before we even finished walking across the parking lot to the Park entrance. Inside the park, we lost count of the ones we saw. Thus, we can say the odds of spying an alligator at the Swamp Park are much higher than at the NWR.
One of the most thrilling moments at the Swamp Park was when a big male started roaring. The sound is almost exactly like a Harley-Davidson V-twin motorcycle that just won't quite start. Loud, deep, and rumbly. Powerful. Then the big fellow (roughly 8 feet long!) chased a smaller one away from his spot in the canal.
There is a wildlife show here. It is interesting and educational, and it was pretty neat to get the chance to put a baby alligator to sleep. All we had to do was rub it gently at the base of the skull and it drifted right off. A neat trick if you can muster it for your own kids. Sadly we've never been able to have it work on ours.
While we did find it interesting, it must be said that wildlife shows are increasingly frowned upon. If you don't feel comfortable supporting this, then the Swamp Park may not be for you.