This post may contain affiliate links. If you use them we will earn a small commission but it won't cost you anything extra
Despite all of our travels and Shon growing up in New England, neither of us had ever seen a whale in the wild. Not until we went whale watching in the San Juan Islands, that is. Most Washington state whale watching tours require travelers to drive fairly far north and then catch a boat. As we didn't rent a car during our 3 days in Seattle and were rather short on time, we were happy to learn that there is one operator that conducts a tour that begins and ends right in Seattle. We booked a tour with Clipper Vacations and went on a day of adventuring.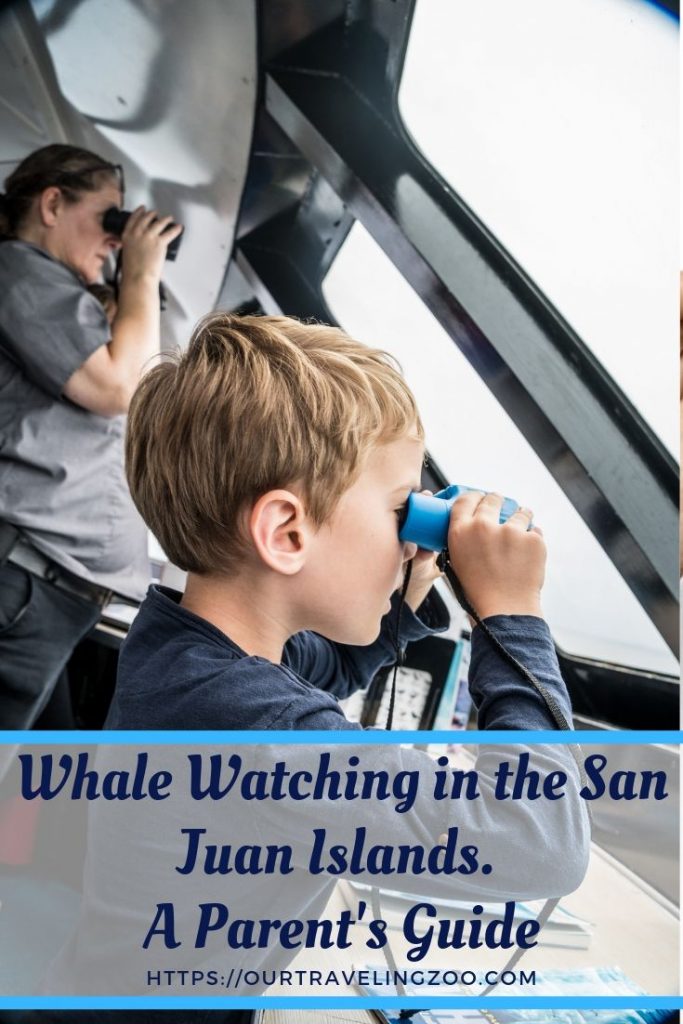 San Juan Clipper
The Terminal
Clipper Vacations advised us to arrive to Pier 69 around 7:30am. We came a little bit earlier and spent the time at the Clipper Cafe on site (the adults enjoyed their breakfast burritos, and the kids shared a cookie). Then we joined the other folks waiting to board the San Juan Clipper. As a family with a child under 5 years old, we qualified for pre-boarding together with those with difficulty walking. You have to be on board by 8am or your ticket will be forfeited.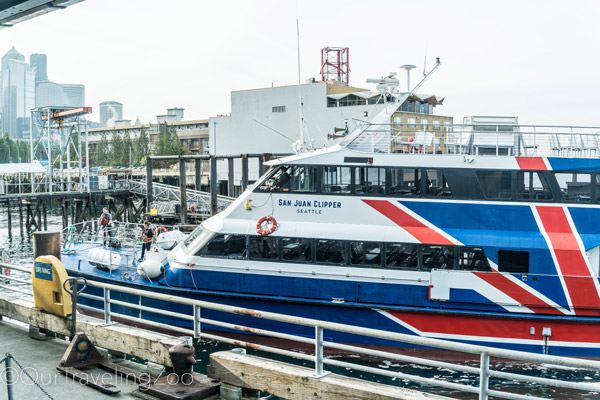 Vantage Points
The boat has three decks, two of which are enclosed. We asked the captain about the best place to sit and he said that any seat with a window would be great. We heeded his advice and picked a spot on the second deck. The window seats offer good vantage points. They are arranged around tables and while each booth is made to accommodate 6 people, the boat wasn't crammed and most window seats had 4 people or so.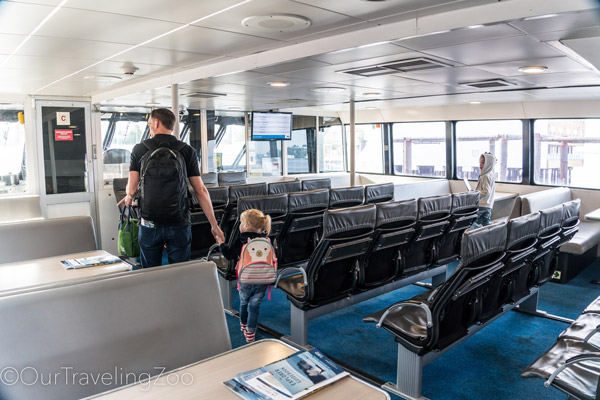 When we got to the whales, naturally, everyone wanted to be outside. There is a fore deck that they opened so people could go outside, as well as the open roof and a rear portion of the second deck that is outdoors. We were able to go to each deck and get good views. The pilot moves the boat around a fair bit, plus the whales themselves are always in motion, so we never found ourselves unable to see. Besides having plenty of chances to see, it must be said that other passengers were always really nice to our kids and allowed them to move up so they could have a good view.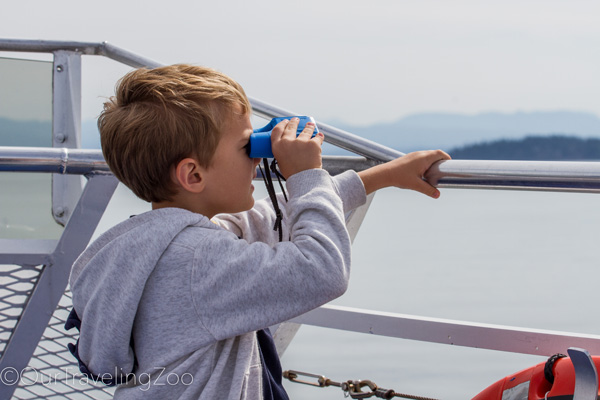 Space to Move (and Nap)
During the trip, the kids could get up and move around easily at any time they liked, though they needed to be accompanied by one of us. That meant they never felt stir-crazy. The crew requests that there should be no running or jumping on board for everybody's safety. Because the window seats are bench-seats, they allowed our kids to nap on the way back.
The Facilities
San Juan Clipper has 3 bathrooms on the lower deck, small but clean. There is a baby-changing room as well. The galley offers food and souvenirs (stickers, postcards, hats, t-shirts, etc..) It's worth noting that they do not accept cash but Visa, MasterCard, American Express, and Discover are all good to go. Also, everybody can get complimentary motion sickness tablets (which Jenia used).
The Food
A special note about the food: we were impressed with the quality of food on the boat and at the cafe. We tried blueberry corn muffins (great!), a tasty clam chowder and a fantastic vegetarian chili. Shon thought the cherry scone was great, as it was a nice, hearty thing with cherries giving it some moisture. Jenia didn't like it. Anyhow, when it comes to food, act fast, or you'll miss the best stuff – at lunch time they ran out of chili, and by dinner time, there was no hot food available at all. They also serve nice, bottomless coffee from local roaster Caffe Vita. The coffee came in handy as we battled jet lag and tried to stay awake (with varying degrees of success) on the return leg of the trip.
Whale Watching with Little Kids
We travel as a family of four, with two little ones, ages 6 and 3. They're seasoned travelers at this point, having been on more airplanes than either of their parents had by the time they were in their 20's, and we weren't concerned about the length of the Seattle-based tour. 10 hours on a boat with a 2-hour break on land isn't a problem for our children. There were 4 or 5 other families on board, some with kids younger than ours and everybody seemed to have a wonderful time.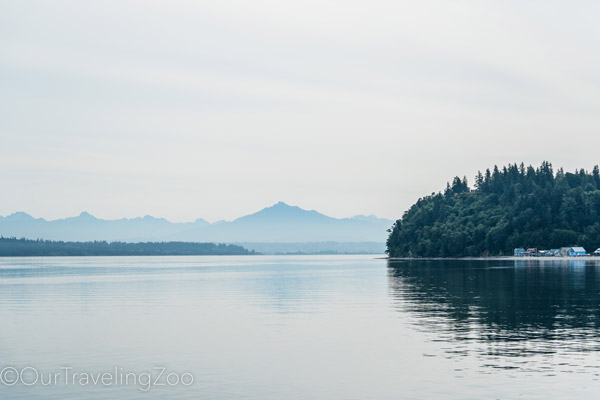 We packed snacks and a selection of favorite toys for the trip, plus some reading and coloring books. That said, Clipper provided a neat booklet for us and the kids to help us keep track of what we spied as well as to record things about the clipper itself. Both Turtle and Princess thoroughly enjoyed that.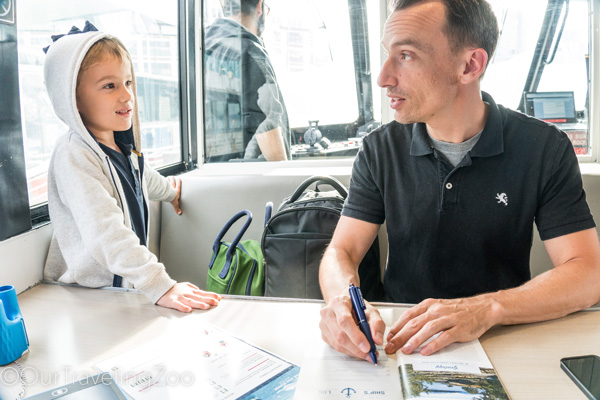 There were also coloring books with pictures of the Salish Sea creatures available for purchase (written and illustrated by one of the guides!), and a few other items available geared toward youngsters, including a kid's meal that came with stickers.
Onboard Naturalist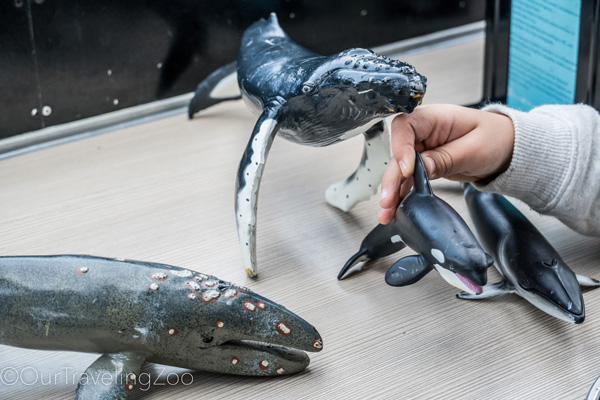 Keeping the trip informative and entertaining, our whale-watching tour featured expert naturalist Stephanie Raymond. She was excellent with children (and adults). She had a number of models and artifacts for kids to interact with, including a life-size cutout of a killer whale and a piece of a humpback whale's baleen. There were also numerous educational posters around the clipper. We could easily write a fascinating post about Stephanie herself, one of the 3 naturalists who work for Clipper Vacations' whale watching tours. She has a life-long interest in killer whales, and she's been with Clipper Vacations for 10 years now. Prior to that, she worked with a non-profit involved with wildlife as well. Her passion for, and depth of knowledge of, marine animals is both astounding and infectious.
A Learning Experience
We learned a great deal. Here a few interesting things. Killer whales in captivity have a lifespan of about 17 years, whereas in the wild, they can live to be 50-60 years old. There are distinct populations of killer whales known as residents, which, as the name implies, reside in the Salish Sea, and transients, which come and go. The resident whale population has declined drastically as the population of their favorite food–king salmon–has waned (if you'd like to help both the salmon population and the whales, head over here). There only about 76 of them now and they have mostly been staying out of the Salish Sea for the last several years. There are many more interesting tidbits we could share, but they might go beyond the scope of this article.
Reading Material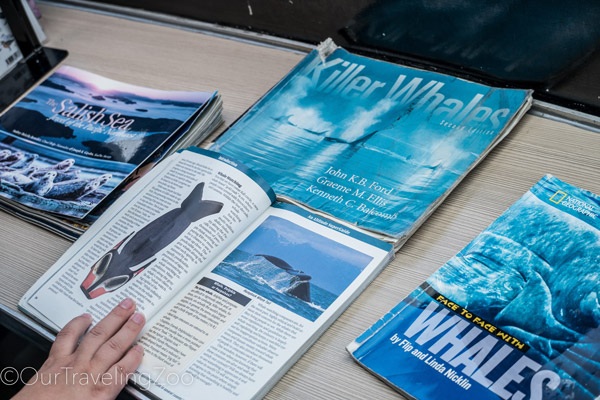 There is a nifty library of books for all ages, plus magazine and journal articles in binders. This meant there was a wealth of knowledge for us to leaf through at our leisure. Shon liked the children's books as much as anything else, because he felt he could digest the information quickly and easily. And, of course, he could read aloud to the kids simultaneously, about the place we were visiting and the animals we were seeing. We found the magazines interesting, too, as they included articles by Native Americans, representing a whole different point of view than we're accustomed to.
Whale Watching in the San Juan Islands
At noon time the boat docked at Friday Harbor, on San Juan Island. Passengers not doing the whale watching tour disembarked, and some cargo was unloaded. Then we headed off again. We would spend a couple of hours whale watching, then return to Friday Harbor for a breather before going back to Seattle.
We were delighted to see the T-37 pod of killer whales frolicking. Vessels aren't allowed to get closer than 200 yards to whales. Of course, if one surfaces closer than that to the boat, then that's just the way it is–we all get a nice view. The whales were active and we were treated to a pretty good show, including spins that Stephanie called cartwheels. The time we spent watching the killer whales passed quickly, and we got to watch them from outdoors on each deck, as well as through the glass inside. Besides the killer whales, we also got lucky and spotted a humpback and a couple of minke whales.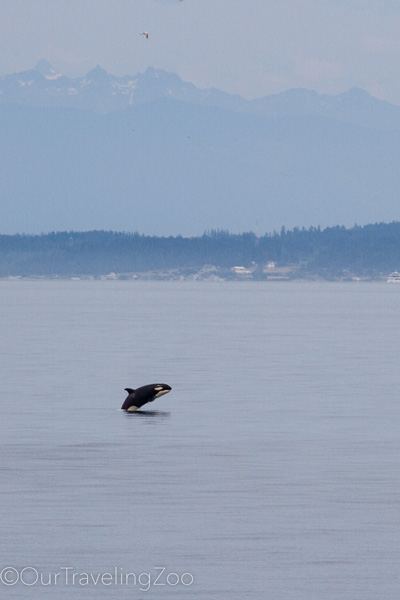 6-year-old Turtle never grew tired of looking for and at the whales. The killer whales surfaced often enough that he was able to spot them easily. We brought a small pair of binoculars he and Princess shared. Speaking of which, there are binoculars available for rent on the boat ($10 at time of writing). We used our zoom lenses to get closer views, but even with the limit of 200 yards, we were still plenty close enough to enjoy a good view without looking through anything. 3-year-old Princess eventually proclaimed, "I'm tired of looking at killer whales." She tolerated our enthusiasm well, and then took a nap on the way back to Friday Harbor.
Friday Harbor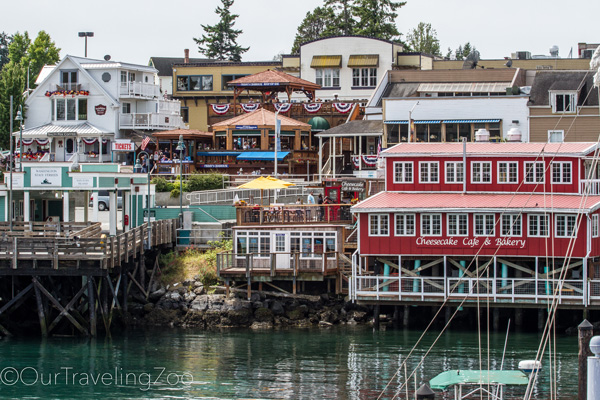 As for Friday Harbor, it's a classic small American tourist town, and it's undeniably a fun place to spend some time. Stephanie recommended a pre-school age level playground in Sunken Park that was perfect for the little ones to let off some steam. We also found the small Whale Museum worthwhile, especially since we could handle a killer whale tooth and other such artifacts, and with a 50% discount courtesy of Clipper Vacations, it fit the budget, as well.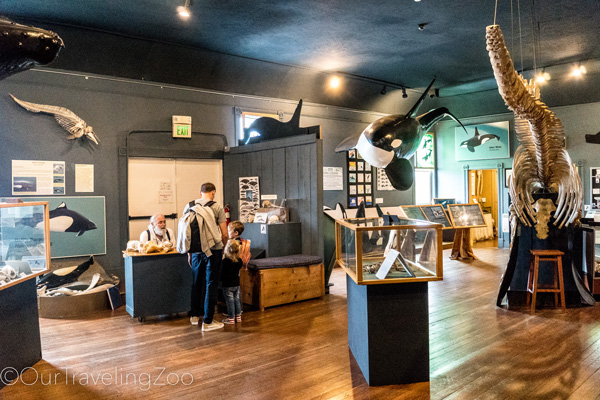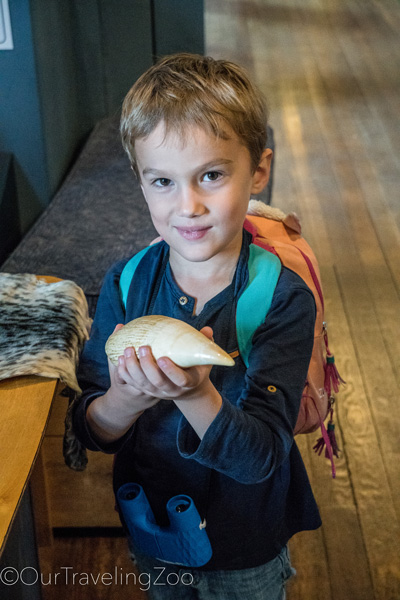 We spent about an hour in the town, then got back on the San Juan Clipper and headed towards Seattle. The trip back was relaxing and uneventful. We enjoyed the scenery and discussed the cool stuff we got to see and do during the day.
Should you go whale watching in the San Juan Islands with kids?
We say, "Yes." We got to see a variety of birds and animals. The clipper was clean and spacious; the staff and crew, friendly and knowledgeable. The food was good. The boat allows for various vantage points, all of them good. The speaker system makes it easy to hear the guide at all times, in all locations. With downtown Seattle being the departure and arrival point, this particular tour allows for a single-day trip without exhausting anybody.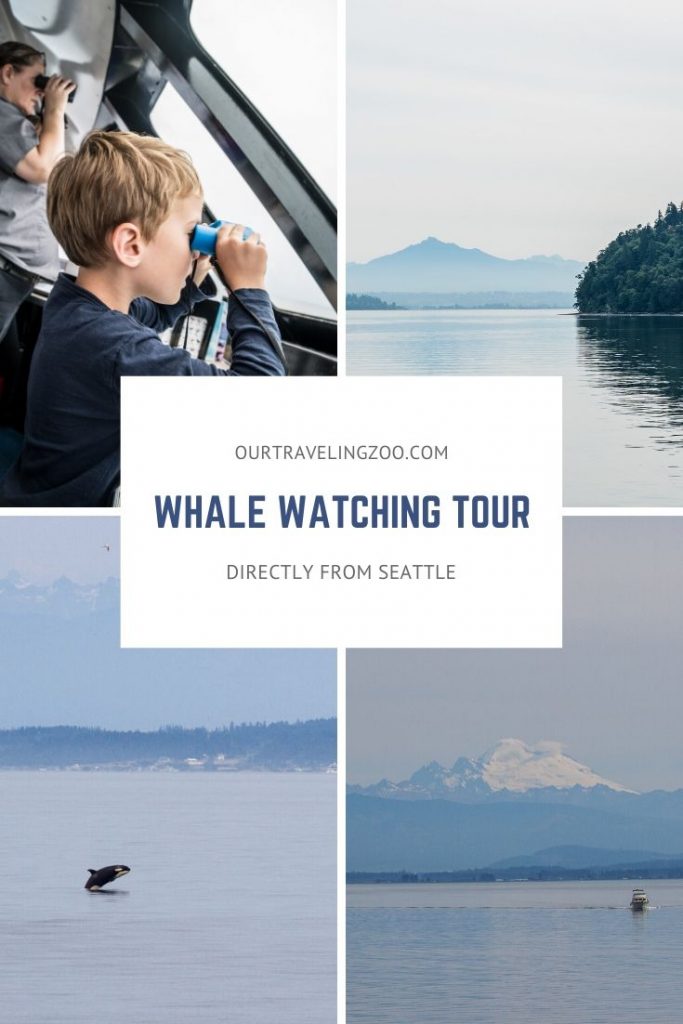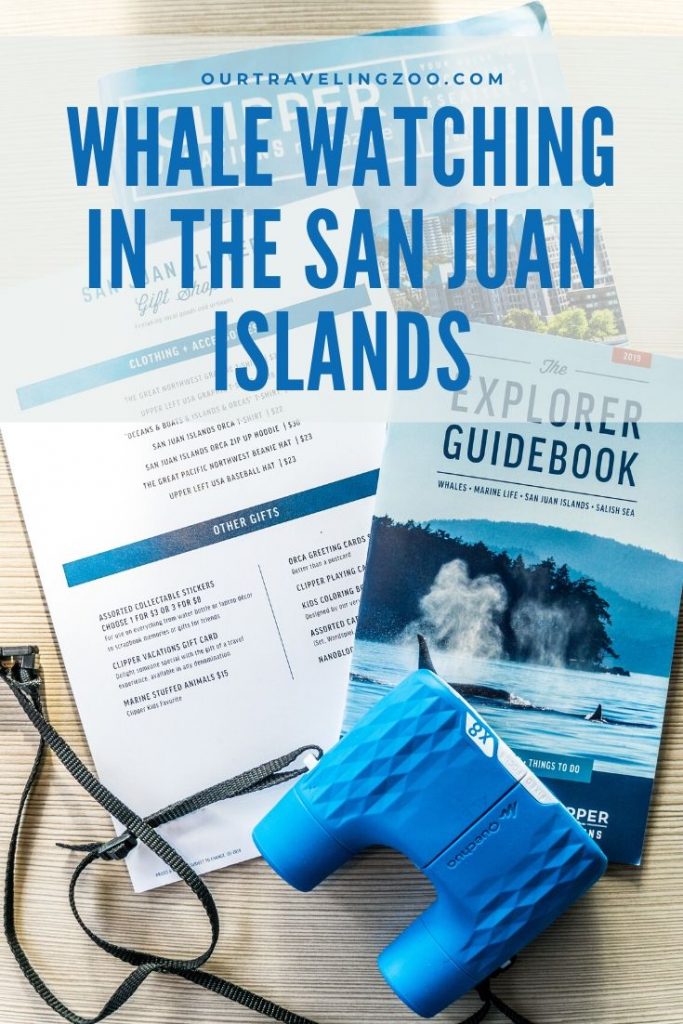 Disclaimer: We were provided with a discount on this tour in return for an honest review. All thoughts and opinions expressed in this post are our own and are not influenced by Clipper Vacations in any way.