This post may contain affiliate links. If you use them we will earn a small commission but it won't cost you anything extra
Should you visit Barcelona with kids? Especially young kids? Especially in winter, when the famous beaches of Costa Brava aren't the main attraction? Our answer is a resounding YES.
Barcelona has been on Jenia's bucket list for well over a decade. She remembers seeing photos of Gaudi's masterpieces and knowing she had to see them one day. The city didn't disappoint. It is one of those extremely walkable places where you can spend a whole day simply wandering around, marveling at the architecture and people-watching. Since we came to Barcelona with kids (Turtle was almost 6, and Princess just over 3 years old at the time of the trip), we wanted to find things to do that were both kid-friendly and budget-friendly. Some may be surprised not to find Parc Guell on this list – the buildings in it were undergoing massive renovations at the time of our trip so we chose not to visit. Everything on this list is things we've actually done during our 3 days in Barcelona and the reviews are our honest opinions.
Sagrada Familia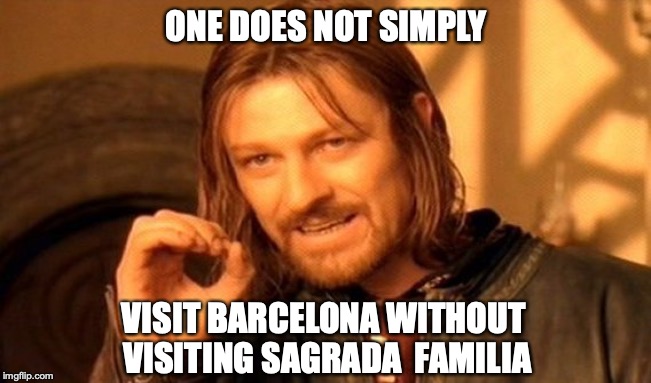 This meme reflects our feelings precisely. Do visit Sagrada Familia on your Barcelona family vacation, and not just from the outside. Do buy your ticket (weeks, if not months in advance if traveling in high season) and go in. If you are a fan or just like to do some prep, do check out their website and blog. There is so much amazing information on there!
Antoni Gaudi's Sagrada Familia is one of the most amazing works of architecture we have ever had the fortune of laying our eyes upon. That said, when we are traveling with little kids, we always wonder if they will enjoy seeing buildings when we travel. After all, I (Shon here) don't remember having any interest in architecture as a kid. I mean, maybe tall buildings, but that was all, and it was only because I grew up in the countryside where there weren't any tall ones. So how can a family visit Sagrada Familia with kids and keep them interested in the experience?
Jenia came up with a printable Scavenger Hunt for Sagrada Familia which really helped our 5 year-old son have a good time. He focused on details he would otherwise have ignored or overlooked, and as a matter of fact, the worksheet got us all involved in seeking out things we wouldn't have noticed otherwise.
There are a massive number of statues, carvings, and details along the exterior of the basilica. After we paid admission (which, by the way, goes toward funding the ongoing construction project), we found ourselves at the main entrance, also known as the Nativity Gate. The Nativity Gate tells much of the story of Christ's birth (including events prior to it) through statues, carvings, and the like. There are so many details it can be overwhelming, and it could be incredibly easy to overlook the intricacies, especially without a reason to search for specific things. Having to stand and focus to help our little boy find certain ones really enhanced the experience for all of us, giving us a deeper appreciation of Gaudi's work.
To our delight, this little Sagrada Familia printable meant the experience at the basilica was thoroughly enjoyable for all of us. Inside, we were enthralled by the way light played through the stained glass, and the mind-blowing columns and ceiling simply have to be seen to be believed.
Once we moved through the auditorium and found our necks slightly sore from staring upward so much, we headed downstairs, to a museum detailing the genesis and development of the Sagrada Familia. There's much to see, and there are even some interactive displays that can be touched. This helped us get a sense of how different the Sagrada Familia was from its contemporaries, and why it is still so striking and modern today.
Also worth mentioning, there is a penny press machine, and since our little boy likes getting pressed pennies as a souvenir, he was excited about getting one from there.
So there you have it! Download this free Sagrada Familia printable and enjoy it when you visit Spain's most amazing church! We think it will help you to maximize your experience, and also make the experience that much better for your kids.
Practical Pointers: The visit took us about 2.5 hours. We could have easily stayed longer, or could have cut it shorter if there were a need. There is a playground in the little park across the main entrance to the basilica.

Parc de la Ciutadella
Do your kids like parks? Ours seem incapable of walking past one without stopping. We scheduled a stop at Barcelona's most famous park after visiting Picasso Museum nearby. Parc de la Cuitadella was once a much-hated fortress that was turned into a public park in 1872 and redesigned for the Universal Exposition (International World Fair) in 1888. It is a now a 70-acre green space.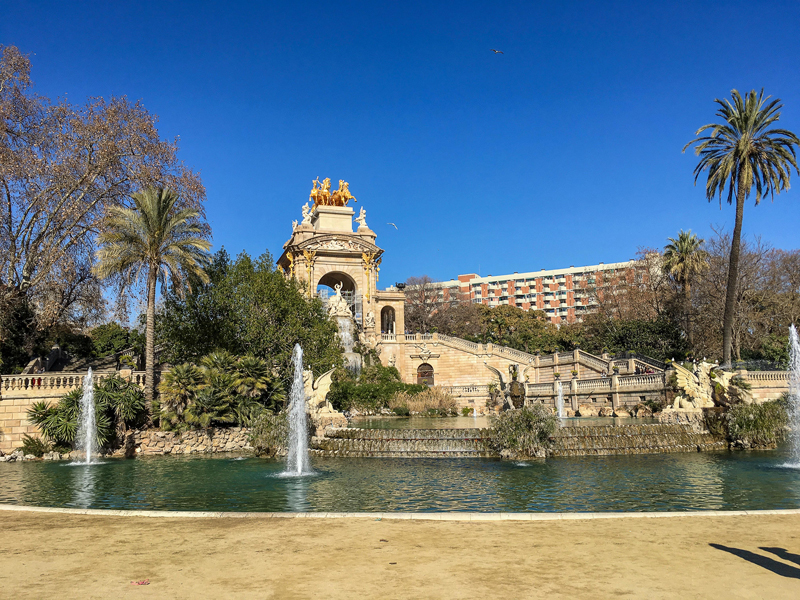 There is a small playground that occupied our kids' interest for awhile. There is a life-size mammoth sculpture made from armored concrete in the early 1900's. There are buskers, and soap bubbles, and acroyogi. There's the humongous Cascada fountain, a favorite of both the kids, and the instagrammers. We made a point of walking up and down the stairs, paying close attention to the sculptures. There is also a large pond with year-round boat rental (10 euros for a family of 4).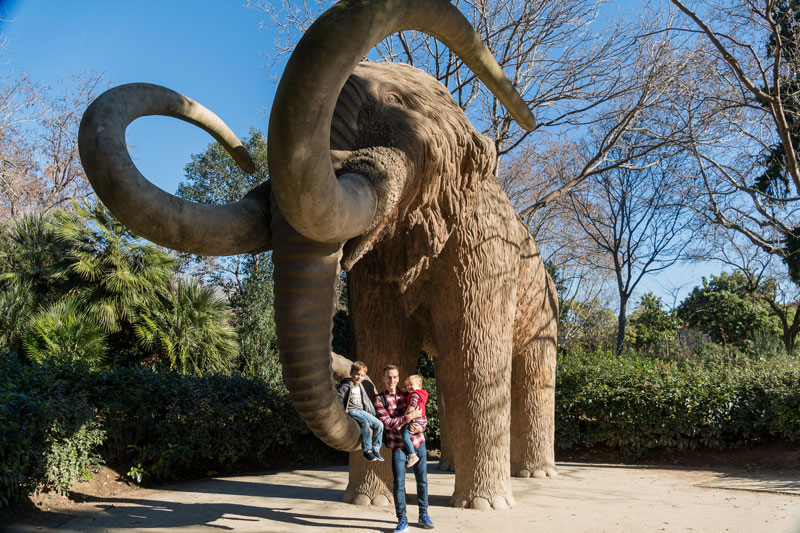 Practical Pointers: Barcelona Zoo and Natural Sciences Museum are both located on the Parc's grounds. We didn't visit them, however.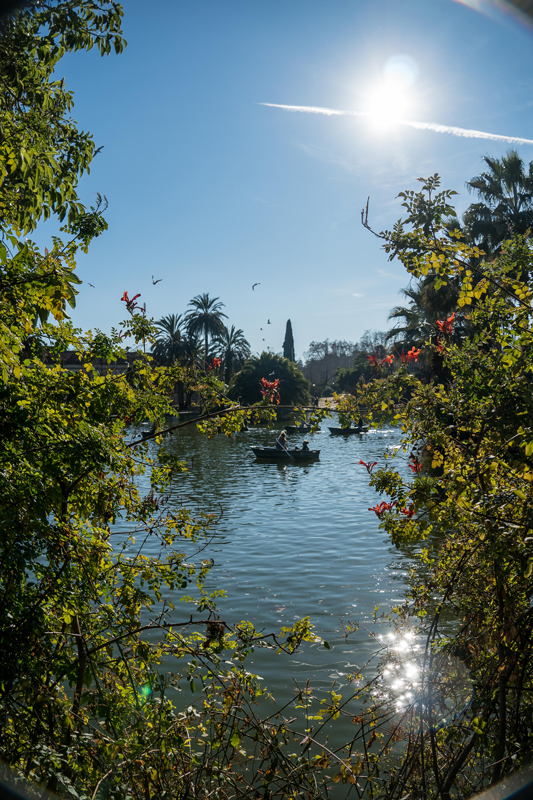 Barcelona Cathedral
What? Another church? Actually, we visited Barcelona Cathedral (also known as Cathedral of the Holy Cross and Saint Eulalia) before we made it to Sagrada Familia (which, by the way, isn't a cathedral). The construction of this beautiful building began back in the 13th century and some additions were made as late as 1913. The main draw of the cathedral for the kids are… the 13 white geese kept in the cloister (the not-so-kid-friendly detail is the reason behind the number 13: it's a reference to how old Barcelona's co-patron Saint Eulalia was when she became a martyr).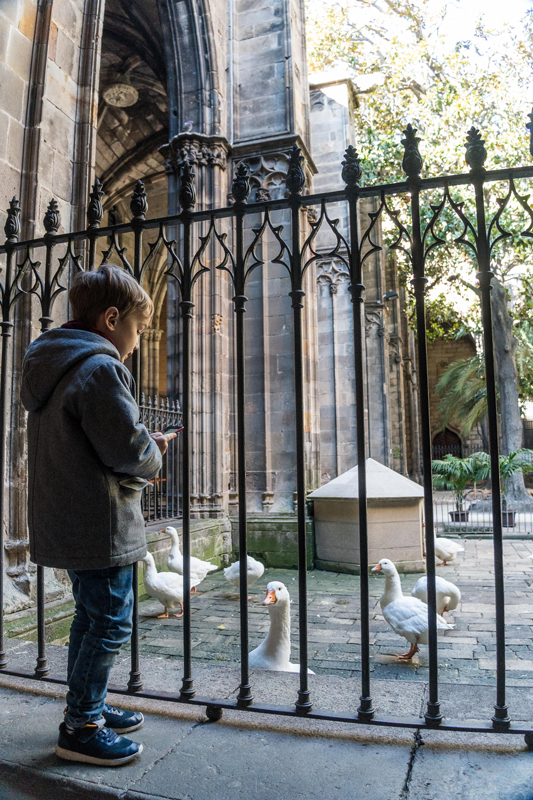 As you walk from Barcelona Cathedral towards the water, stop by Porta De Mar – a free-to-see historical monument: it is a part of the ancient city wall and public baths, built by the beginning of the 2nd century, AD. By this point of our trip, the kids had already seen some ancient Roman structures in southern France and were curious to see more.
Casa Batllo and Casa Mila
Besides Sagrada Famila, Casa Batllo and Casa Mila (also known as La Pedrera) may just be the most well-known of Gaudi's buildings in Barcelona – and are UNESCO World Heritage Sites. We got to see both from the outside (being budget travelers, we couldn't quite bring ourselves to go inside with the cost of €25 per adult for a roughly 45-minute visit to Casa Batllo and €22 per adult to visit Casa Mila). In our humble opinion, the outside of Casa Mila looks more impressive in photos. One may indeed need to go in to fully appreciate Gaudi's genius.
Casa Batllo, however, was fun to see. We hyped up the kids by talking about the "Dragon House". We told them the legend of Saint George who slayed the dragon and saved the princess. Together, we looked for the dragon's back on the roof, the handle of the sword that killed the dragon, the skulls and bones of the victims on the balconies and in the columns, and princess's balcony that's shaped differently from all the rest. They loved it!
Barcelona Oceanarium
Visiting Barcelona Aquarium with kids was all Jenia's idea. We generally try to fit something kid-friendly into every day of exploring and she thought that this would make a nice treat for the littles. She was right, the kids did enjoy it. They loved the underwater tunnel the best, and Turtle was beside himself with excitement when he saw a shark swim right above him. They had as much fun in the play area, pretending to be captains on a submarine and going down slides. The oldest was impressed by the plastic bags made to look like jelly fish and the fact that sea turtles can't tell the difference and would eat the plastic. We all stood mesmerized in front of the tank with the octopi: they were the most active ones we've ever seen.
All in all, it was fun BUT if your kids are older or have been to other aquariums, this one may be rather underwhelming. We visited in late January 2019 and it felt a bit dated and could have used more variety.
Practical Pointers: there are lockers inside, the bathrooms are clean, there is a tiny food court on the top floor. There is at least one penny press as well.
Dali Theatre-Museum
While this is technically not in Barcelona, Dali Theatre-Museum is a fantastic place to visit with kids. Located 154km from Barcelona in the town of Figueres, it can be reached by local or high-speed trains, bus or car and makes for a lovely day trip.
This museum is unlike any museum we've ever visited. It was designed by Dali himself and houses the largest collection of his work, most of it from his personal collection. Man, the guy was prolific. The range of works is extremely wide: there are sculptures, paintings, jewelry, furniture. There are photographs and bathtubs and sketches. Dali messes with your brain; he is a trickster of the highest level, and the kids eat it all up.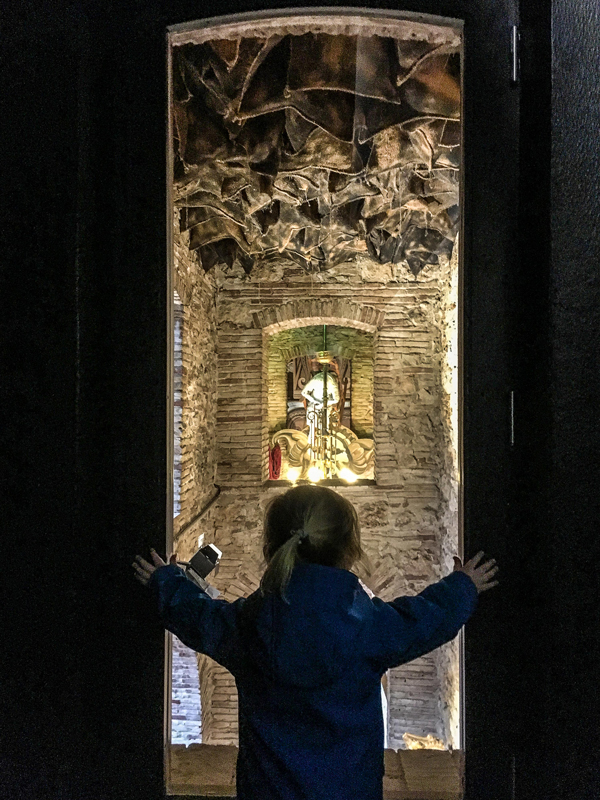 It was great fun to watch 3-year-old Princess walk around and assign meaning to the craziness around her. She saw a big pink glob of something and cried, joyfully, "Ice cream on a chair! With hands!" I believe that in some way, the kids understood Dali's art better than we did. Turtle now says that Dali is his favorite artist.
What Should You Eat?
When you are in Spain, you need to eat tapas. Somewhat surprisingly to us, our kids thoroughly enjoyed the typical tapas – the stuff they wouldn't have tried at home. They gobbled up olives, anchovies & boquerones, calamari, tortillas de patatas, and Russian salad like there was no tomorrow. Our favorite tapas came from Bar El Thomas de Sarria – a non-touristy place recommended by our hotel owner – but there are numerous options around for every taste and budget.
Another thing you have to have is hot chocolate with churros. Once again, there are numerous cafes serving this deliciousness. In all truth, we were perfectly happy with just the thick, rich hot chocolate.
If you are more into edible chocolate, check out Vanini shop on Rambla de Catalunya. They sell every kind of chocolate and great ice cream.
One place downtown we can wholeheartedly recommend is not Spanish at all. It's La Pizza Pazza, where Carrer del Regomir meets Carrer Ample – an easy walk from Barcelona Cathedral. We went for lunch. The pizza was fantastic, the restaurant small and cozy, the service warm and friendly. And it was affordable.
And don't ignore all the pastellerias!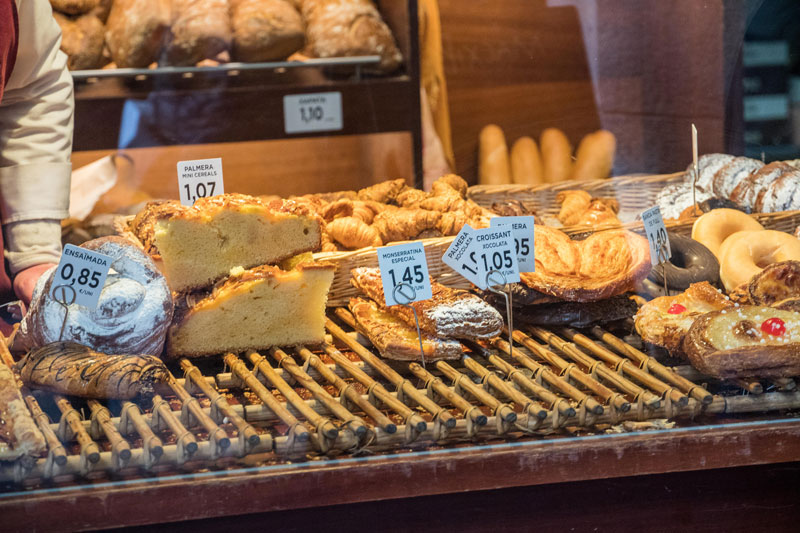 How to Get Around
In our 3 days in Barcelona, we didn't need to use any public transportation besides the metro (there are also buses, trains, and trams). The system is easy to navigate and the tickets are easy to purchase (we used the machines). Children under 4 years old can use the metro free of charge. Older kids need tickets. We could choose between a T10 ticket for Zone 1 (€10.20 for 10 rides on the metro, trains, buses, or tram, can be used by several people and is noticeably cheaper than buying multiple single tickets) and a HolaBCN tourist travel pass (starting at €15.20 for unlimited journeys from 5am to 23pm, good for 2-5 days, non-transferable). We opted for the T10 tickets.
Children's Books about Barcelona
If, like us, you tend to read up about a location before visiting and read a little more after the visit to keep the memories alive, here are some great children's books about Barcelona and some famous locals. We have actually read or at least looked through all of these and wish we could own them all.
amazon-adsystem.com/widgets/onejs?MarketPlace=US">
Final Thoughts
In our opinion, Barcelona is a very kid-friendly city and so very worth a visit. However, it is suffering from overtourism so please consider going in the low season if possible. Also, keep in mind that airbnb has not been good for the locals and consider booking a hotel instead. We wrote about the best area to stay in Barcelona and the hotel we loved. If you use our printable, please let us know how you liked it. If you have been to Barcelona with your children, feel free to add your favorite things to do in the comments below.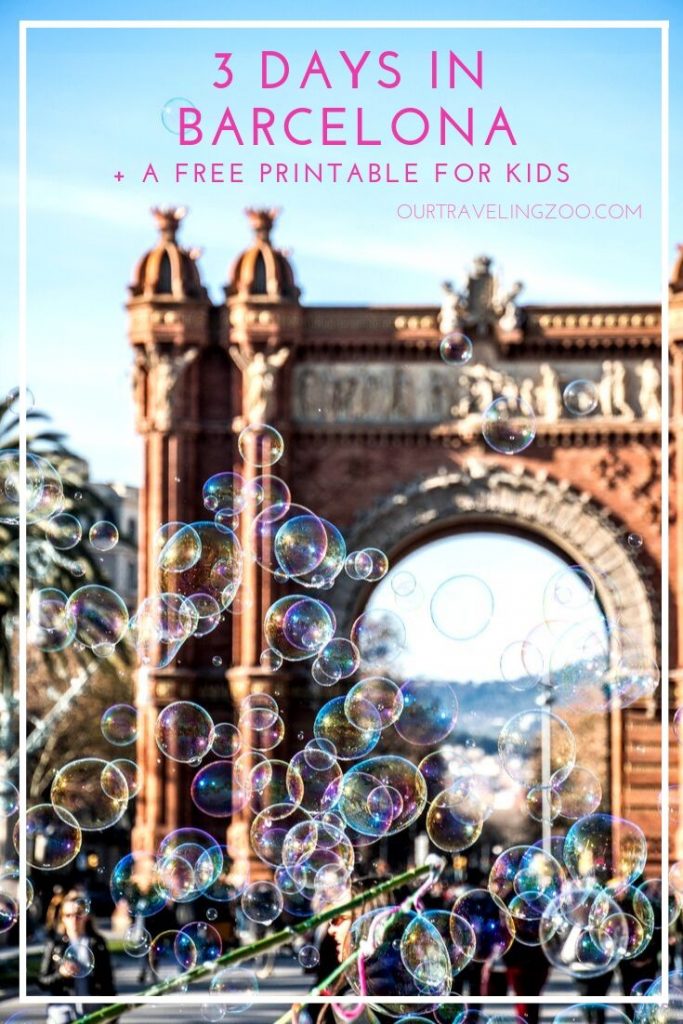 To see more posts about traveling with kids, please head over here.