This post may contain affiliate links. If you use them we will earn a small commission but it won't cost you anything extra
Ho Chi Minh City is a really fun place to visit for a short time. It is vibrant–there is an unceasing flow of mopeds and scooters, for example, and much of the city's seemingly haphazard development gives rise to a huge variety of places to go and see. Despite being very heavily touristed, the city retains a very normal feeling–this is where people go to work and live, not just to play. There's interesting stuff testifying to Vietnam's fairly recent past with war and conflict, as well as architecture bearing a French influence.
Yet we found it tiresome. It's chaotic, loud, and dirty. Perhaps if we didn't have a 4 year old and a 2 year old in tow, we'd have liked HCMC better. However, we did have the kids with us, so we needed to do something to escape the city. So, we loaded the toddlers on a speedboat to take a Mekong Delta cruise, operated by Les Rives. We booked the tour through Get Your Guide. They offer quite a range of Mekong Delta tours available in a variety of languages and price ranges. We finally settled on a Mekong Delta Full-Day Speedboat Tour. It was a splurge but totally worth it.
We were scheduled for pickup at Hotel Majestic at 8.15 in the morning. This hotel was fun to visit in itself. We got a lovely Vietnamese coffee (Jenia insists it's the absolute best we had in Vietnam) and sipped it on the rooftop balcony while we waited. The pickup was actually a few minutes early. We loaded into a shuttle and headed for the river.
On the Speedboat
Turtle, who loves all things motorized, was very excited about the idea of the speedboat. He couldn't wait to get on board! We were thrilled to see that the company takes safety very seriously: there were not only adult-sized life vests on board but a kid-sized one for Turtle and a toddler-sized one for Princess. We provided the children's ages when booking and they made sure our little travelers could cruise around safely. Also, we learned that each boat has an engineer on board so in the unlikely case of something going wrong, there is someone who can sort it out.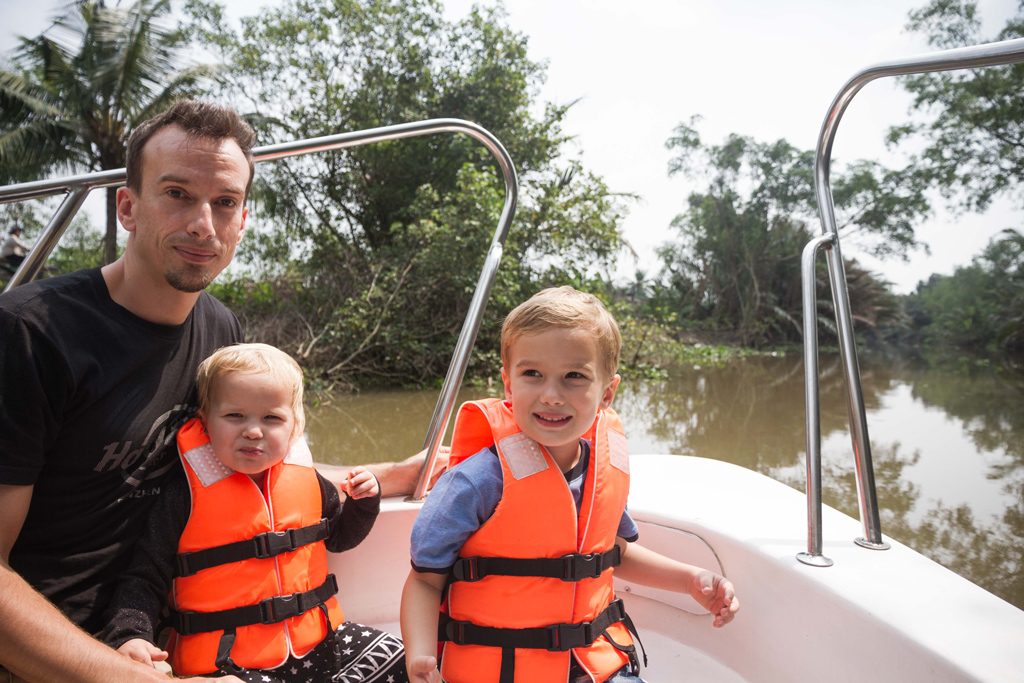 Initially, Princess was not so sure about the wind in her face. She settled in over time, though, and when refreshments appeared, she got comfortable. There was enough variety to keep the kids interested. They could move around if they wanted, within reason, and that was nice, too.
As we started our Mekong Delta day trip, we watched boats (with eyes painted on them!) go up and down the river; we watched sand barges being emptied; we saw floating markets. We saw apricot trees being transported for the Tet holidays. We learned about invasive water lily species. Our boat had to stop repeatedly to untangle garbage or roots from the propeller, and around the third time this happened, Turtle was able to explain what was happening.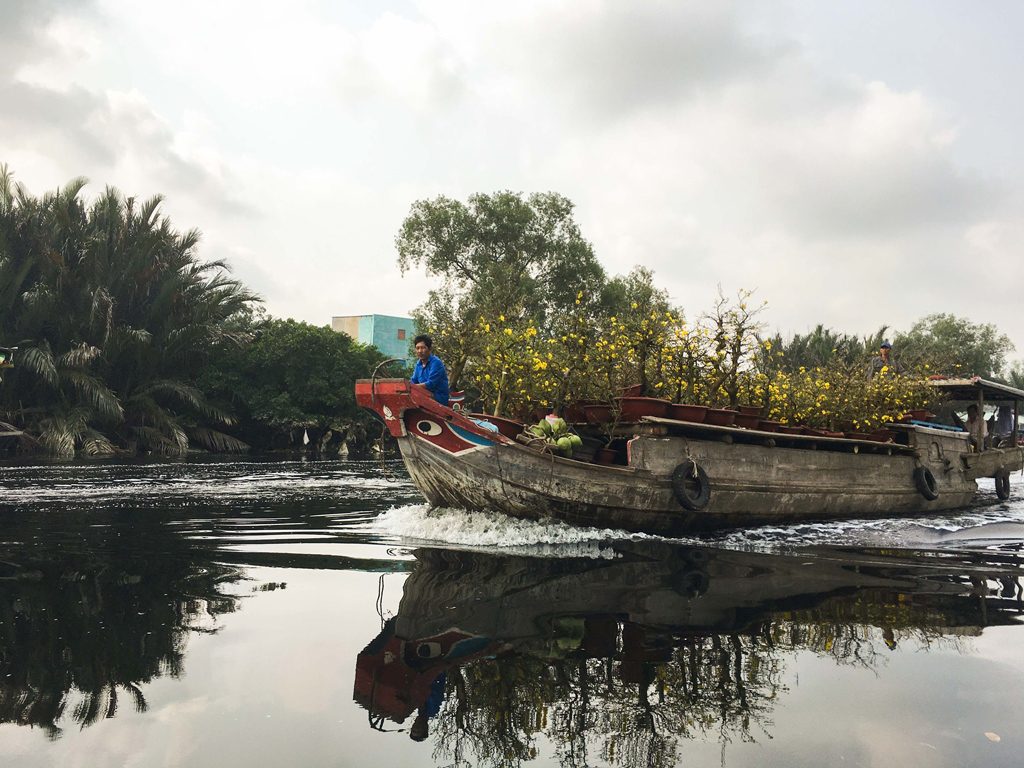 Farmland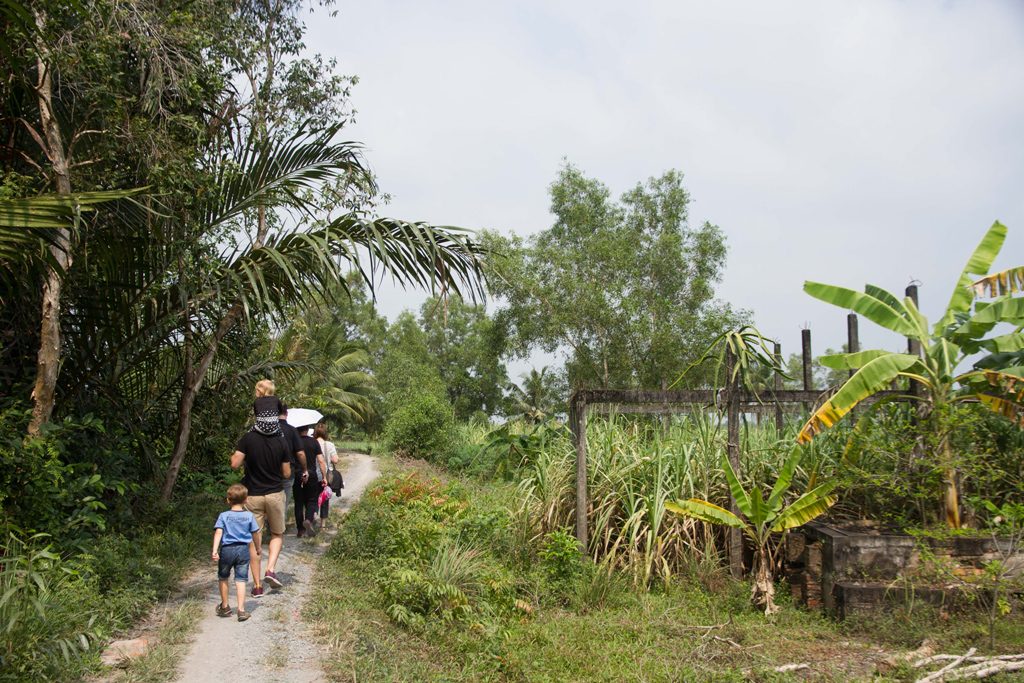 Just when this might have seemed a little bit long for the kids, we got out of the boat and walked beside rice and tapioca farms. While we had to keep an eye on them to be certain they didn't go tumbling down an embankment, this was a good change of pace for all of us.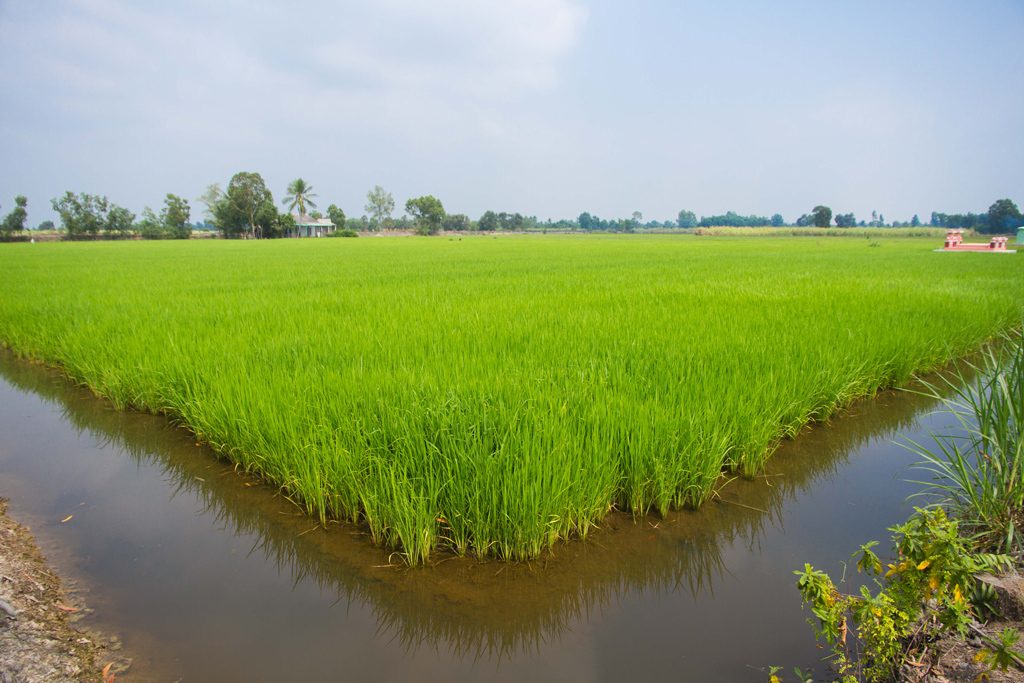 Around 11.30 we arrived at a local farmer's house for a fresh coconut and samples of locally made liquors, if we were so inclined. This was also a chance to use the bathroom. As one might imagine, the kids didn't care much about the whiskey making process but loved seeing the garden, the various fruit trees, and the birds.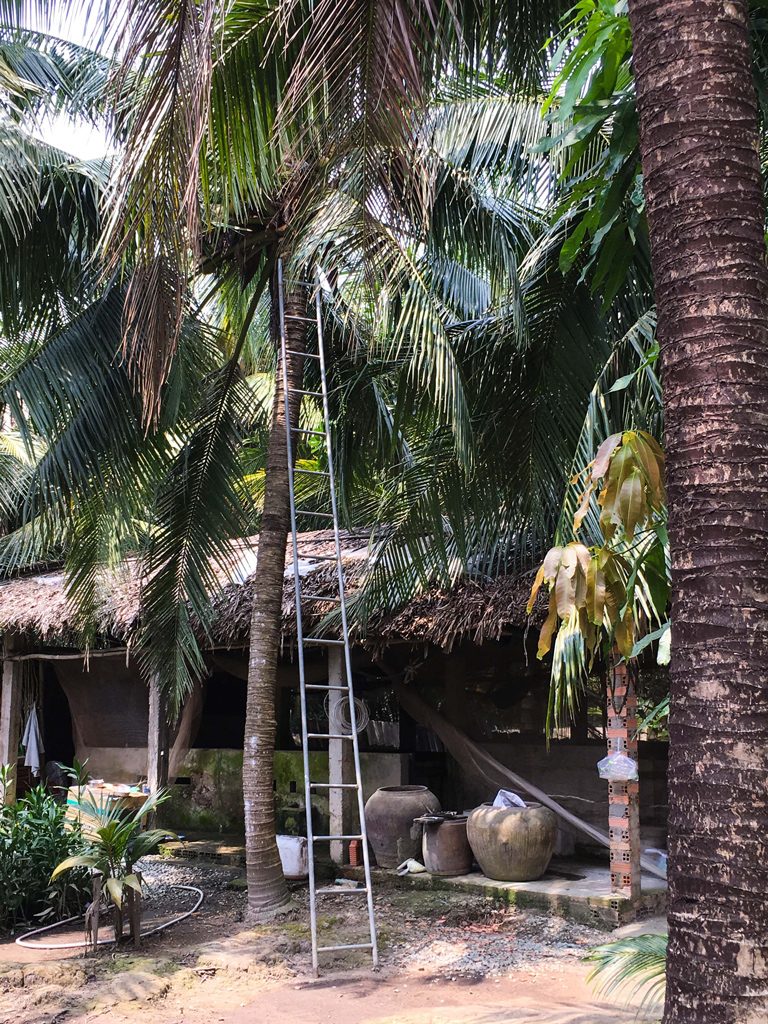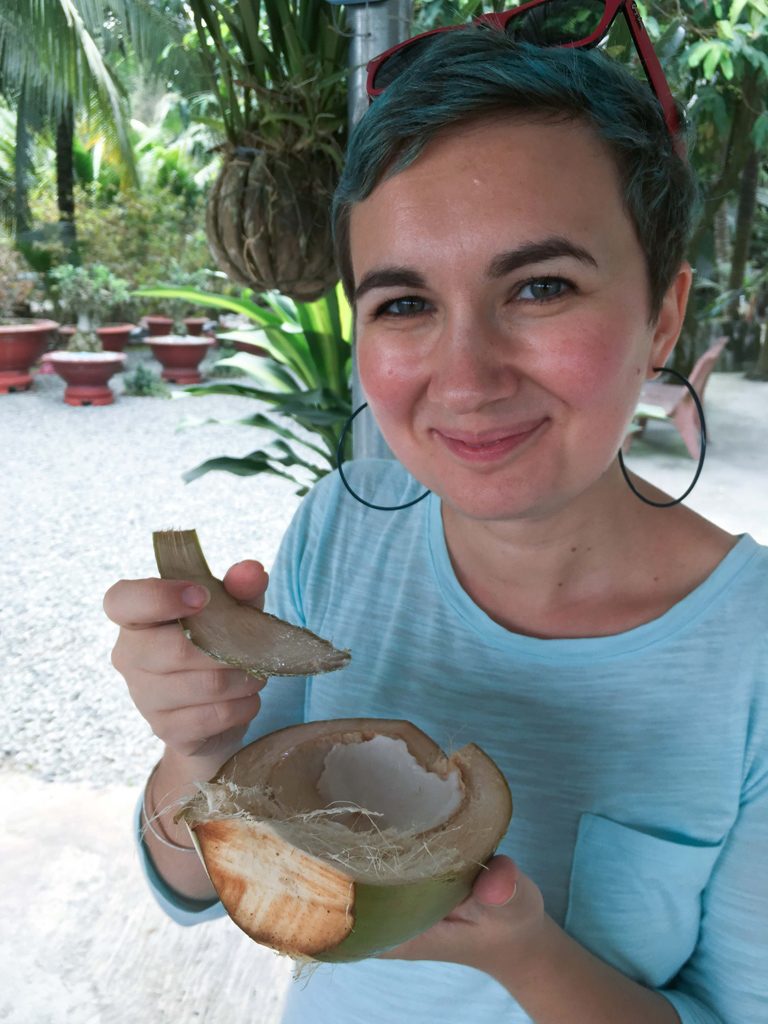 Another Boat
Afterward, we took a different boat–a small canoe–and donned traditional straw hats. The hats are great, by the way; it's no wonder they're still popular–they're lightweight and keep the sun off not just your head, but also your shoulders. Turtle got a kick out of wearing his hat.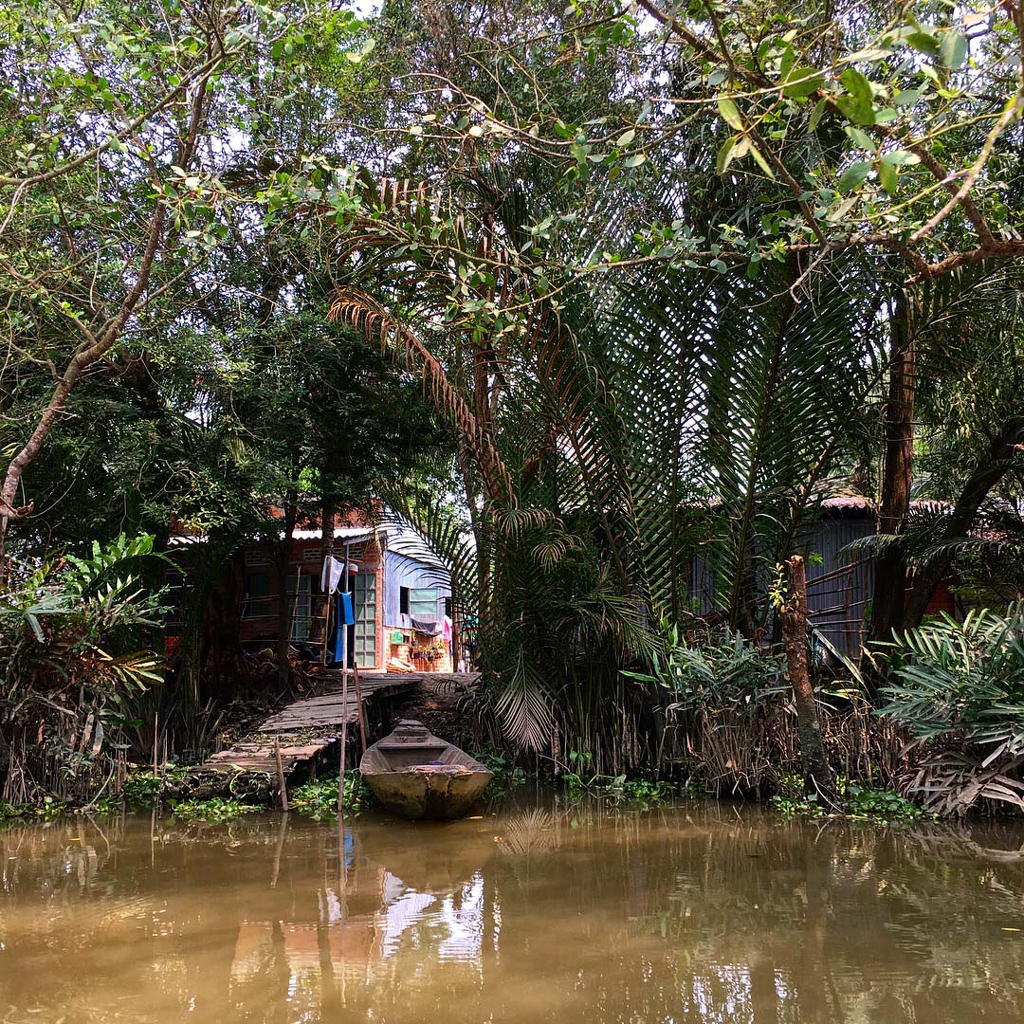 Market and Lunch
Our next stop was at a local market to buy some fresh fruit. The vendors got a kick out of our blond kids – not a common sight in these parts. We enjoyed seeing what they had for sale. Our tour guide instructed us not to buy anything, but he purchased a few bags of fruit for later.
Lunch time came around 12.45. For us vegetarians, there was a nice tofu dish that served as the main course. The kids liked the food, and the indoor/outdoor arrangement allowed them freedom to get up and walk around safely if they wanted.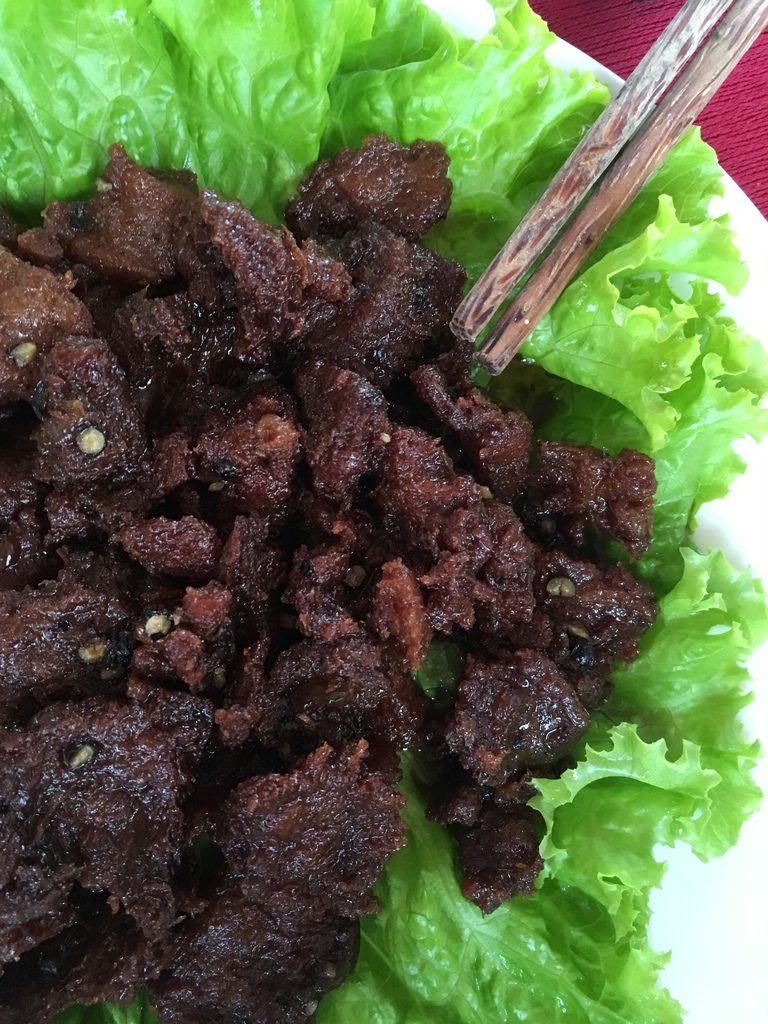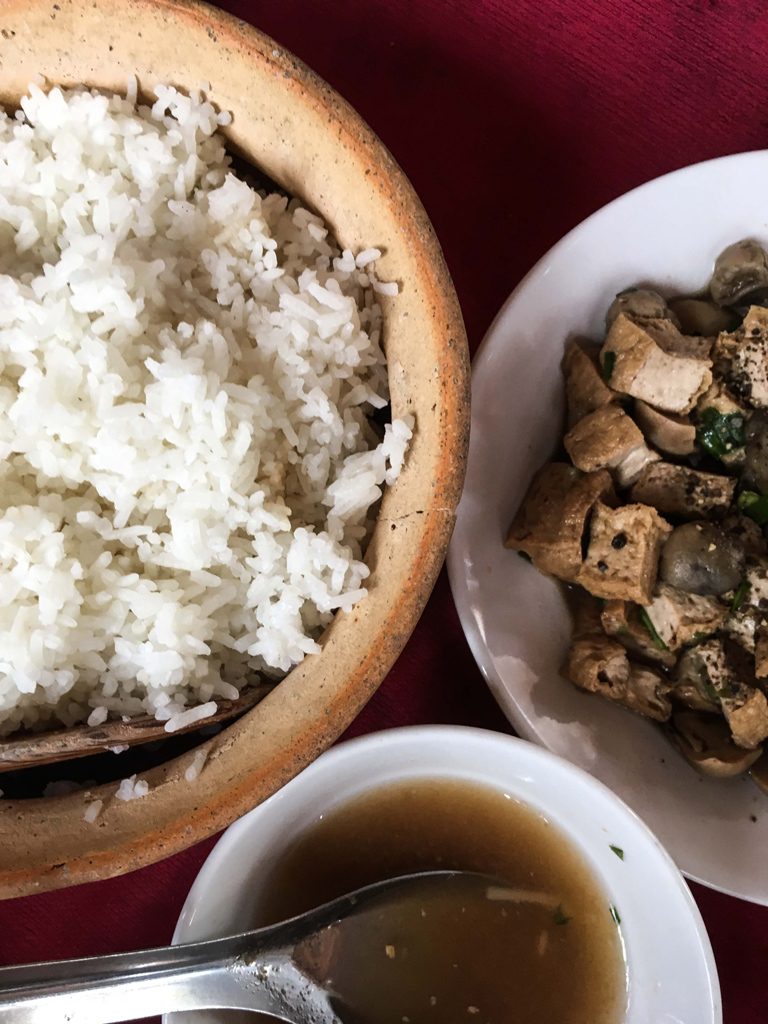 Cao Dai Temple
Then we toured a colorful Cao Dai Temple. This was something that Turtle loved; he liked the temple building and was thrilled when he was allowed to climb up stairs. As for us, while we found it hard to take seriously at first, the religion really does have a very noble aim–to build upon common beliefs shared by many religions to seek after God.
Return Trip
After this it was back into the speed boat. Now on the way up the river, there were a few bursts of speed, but most of the time the pilot took it easy. In contrast, on the way back with less need for the tour guide to provide information, he picked up the pace. The kids did well on the boat, again aided by access to snacks (an interesting fruit called milk apple among them). At 4pm we were back at the dock in Ho Chi Minh. In the end, we were glad we went for this particular Mekong Delta tour. The speedboat ride allowed the kids a lot more freedom to move and things to see than a bus ride of the same length would have. Besides, the simple fact of traveling by boat is a pretty cool thing when you are 2 and 4 years old. Our guide, Hung, and our server, An, were absolutely wonderful – thoughtful, helpful, knowledgable, and willing to share their experiences. We thoroughly enjoyed talking to them throughout the day. An is fantastic with kids! It turns out that toddlers on speedboats are good conversation starters, and the kids stimulated chats with our guides and with fellow Mekong Delta tourists. For us parents, we throughly enjoyed a day out of the constant noise and congestion of Ho Chi Minh City, and we gained quite a bit of insight into Mekong Delta life and culture. While this tour is not aimed at young children, it is very family-friendly. We wholeheartedly recommend it.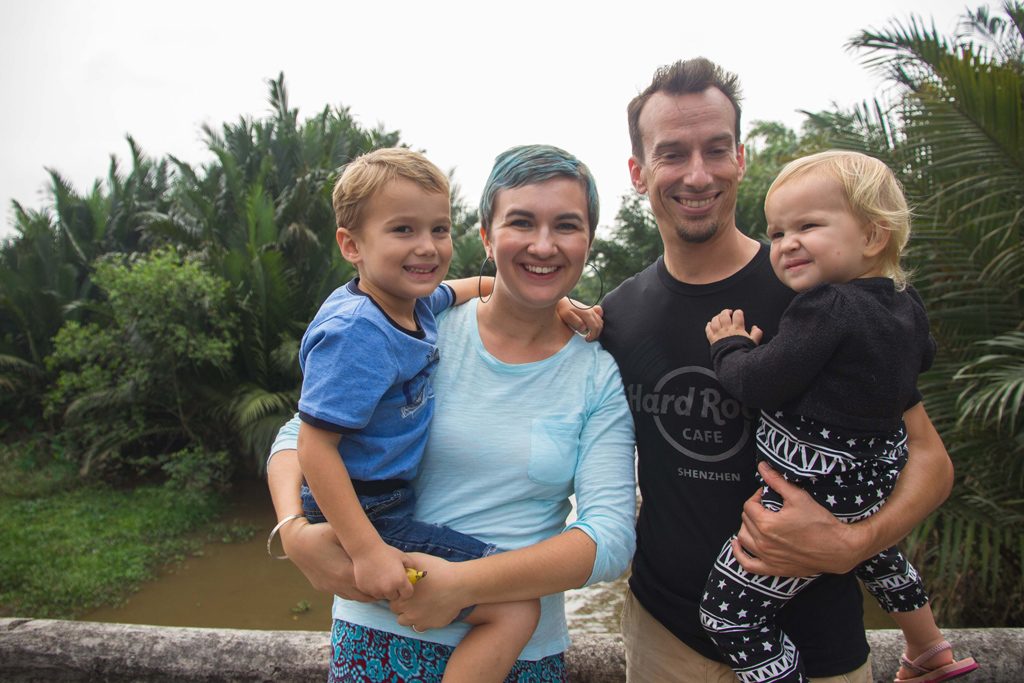 Mekong Books
We like to read about places we visit. If you want beef up your knowledge of the Mekong River, consider checking out one of these books.
If you are planning a trip to Vietnam, please read this post about traveling on an E-Visa. If you would like to read more about traveling with kids, check out this post.