This post may contain affiliate links. If you use them we will earn a small commission but it won't cost you anything extra
Singapore on a budget–is it possible? What about Singapore with a family on a budget? Why yes. Let us tell you how we managed a family-friendly Singapore budget trip. First of all, though, we want to say that Singapore was easily our favorite city we visited during our big Asian Adventure in January and February 2018. Some say it is sanitized or lacking in character, but we strongly disagree. It's truly multicultural, English is widely spoken, and we found much to do. We only spent three days, and if we had it to do over again, we'd have spent a couple more.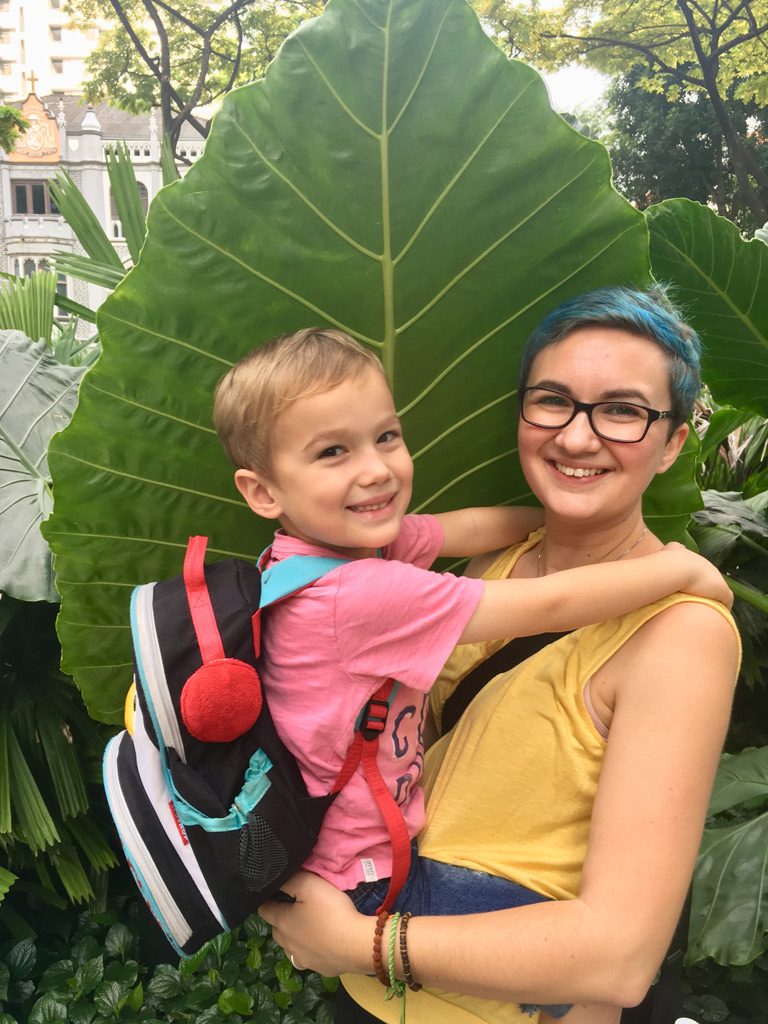 Another reason we loved Singapore is because it is the anti-southeast Asia. It's orderly. It's well-planned and easy to navigate. It's pretty, and it's clean. There is a reason it's nicknamed the Garden City, as there's a ton of greenery. The architecture is a splendid mix of old and new, and it all balances nicely. Living as we do in South China, we are fairly accustomed to cars ignoring stop signs, electric scooters zipping along the sidewalks, and a certain amount of disregard for what we Westerners consider common courtesy. There was none of that in Singapore. Cars went where and when they were supposed to; sidewalks were used exclusively by pedestrians (and bicyclists); and people were as courteous as you'd expect anywhere in the West.
"Singapore is like London in Asia," our friend John said. He was right. It's got that same sense of polish and attention to detail.
Now, most everybody knows that Singapore is an expensive city. Also, most everybody who reads this blog knows that we don't like to spend a fortune when we travel. So back to our original question. How did we get by in Singapore on a budget, and what did we find to do for three days that fit our style?
Here it is, in short. We did simple things! We booked a hotel that wasn't expensive. We didn't go to Sentosa Island, crammed as it is with theme parks and clever ways to part folks from their hard-earned. We enjoyed wandering, and we deliberately sought out affordable places to eat.
Here's the story in more detail. We booked a room at Santa Grand Hotel in Bugis which was close to the Marina, but which was quite affordable by Singapore standards (but pricey compared to hotels in Malaysia). A short hike from the MRT (don't call it the metro; people won't know what you're talking about), this was a pretty good location to explore from, and Bugis itself turned out to be fun. The hotel featured a breakfast which was, well, honestly, just passable (we could make our own kaya toast, so there was at least a bit of local color), and the kids loved the small rooftop swimming pool on the fifth story. The room was unremarkable, but that fit the bill perfectly. Now, on to the highlights!
Budget Friendly Activities: FREE First!
Free activities are our favorites, and we love being outdoors, so here are three places we went that were cool and free, and a fourth activity for photo-snappers.
1. Gardens by the Bay. Man, what a place. We could probably have spent the whole day exploring there, but we were too cheap to ante up payment for entrance into the paid areas, and we really wanted to explore further afield as well.
There is a visitor center, a couple of eateries (including the inescapable McDonald's), a big splash pad and 2 fantastic playgrounds (one for very young kids, one for older kids).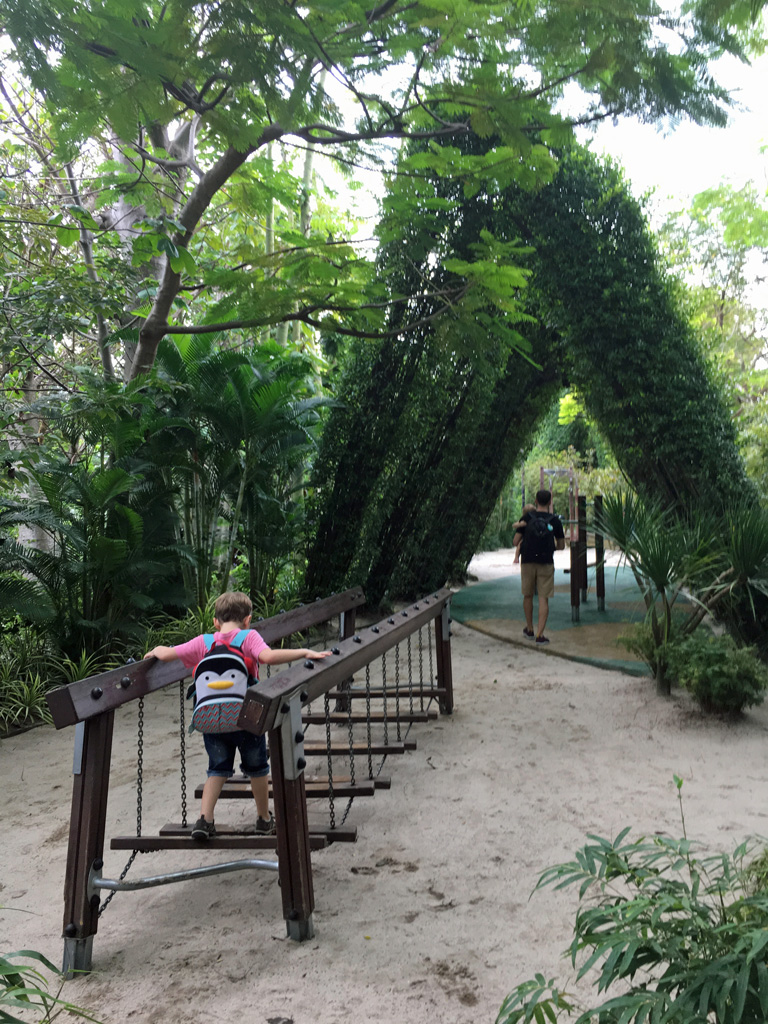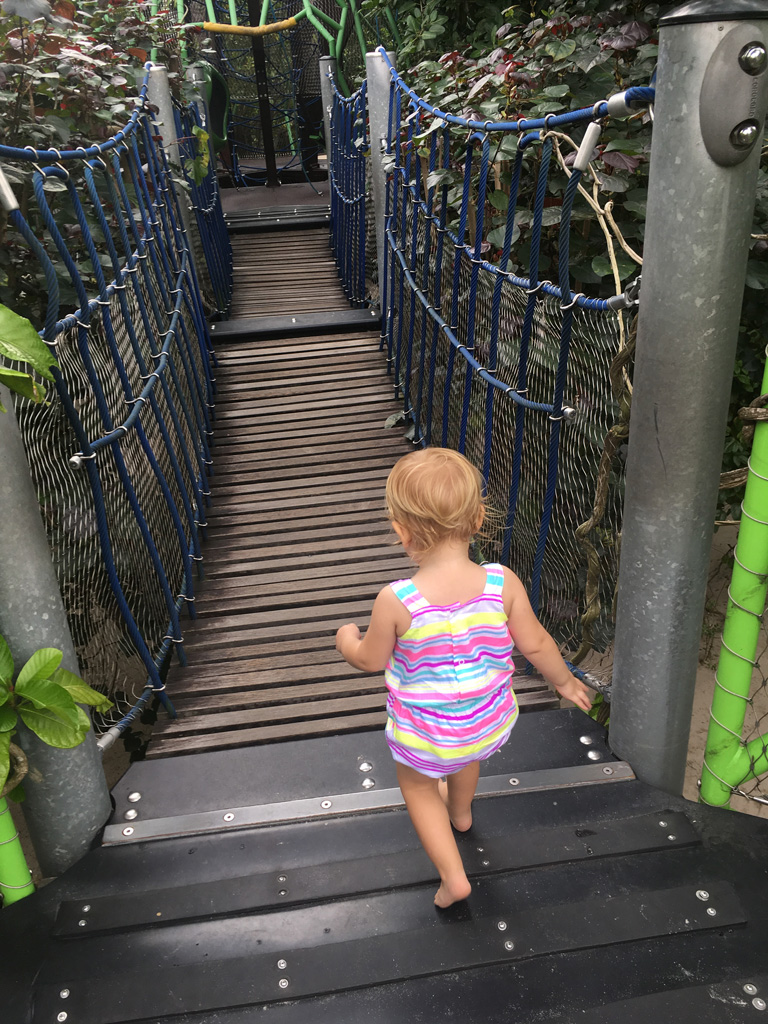 2. Marina Bay. What better place to marvel at the amazing architecture of Singapore than this?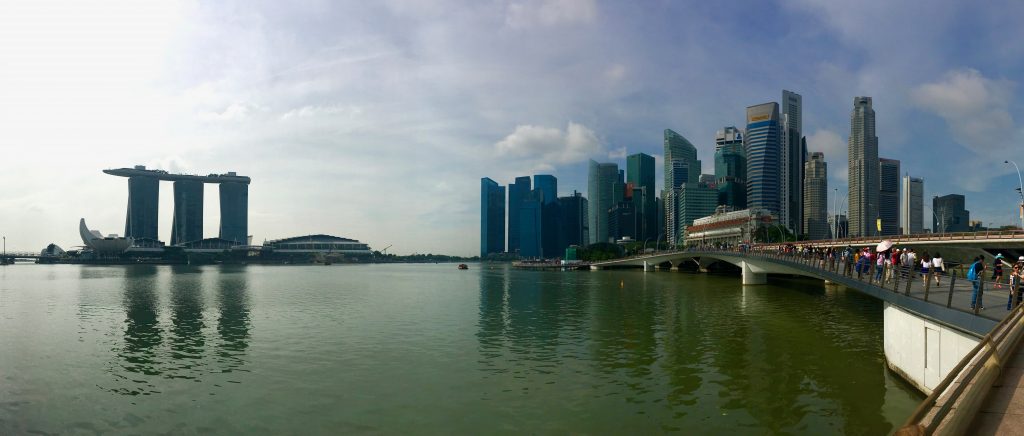 We walked slowly around the bay, and our toddlers were highly disappointed that the Merlion was covered for cleaning or renovation. We settled for a small fountain nearby instead. There are lovely walking spaces and bridges here, and beautiful places include the Clifford Pier which is always open to people like us taking a leisurely stroll through it.
3. Fort Canning Park. We happened to end up near this park on the way back from Clarke Quay, and naturally, seeing stairs, I led us up them. Jenia wasn't happy about the stairs, but it was so pretty up there that she soon forgot her misery. Well, it was the beauty and the fact we got rained on, which distracted her. Despite getting a bit soaked (we'd been advised to take an umbrella along, which was tremendously helpful) we didn't care too much. The kids could run along the paths and we could marvel at the amazing banyan trees and splendid flora. We'd go back and spend hours here.
4. Try to photograph interesting architecture or the splendid flora. That's harder to do than it seems, as it takes an eye for detail and composition, as well as, here's the thing for us, patient companions (turns out toddlers and 4 year olds aren't renowned for waiting around). There are many, many interesting buildings (an Art Deco skyscraper in Bugis, for example, or an apartment complex of pastel colored towers).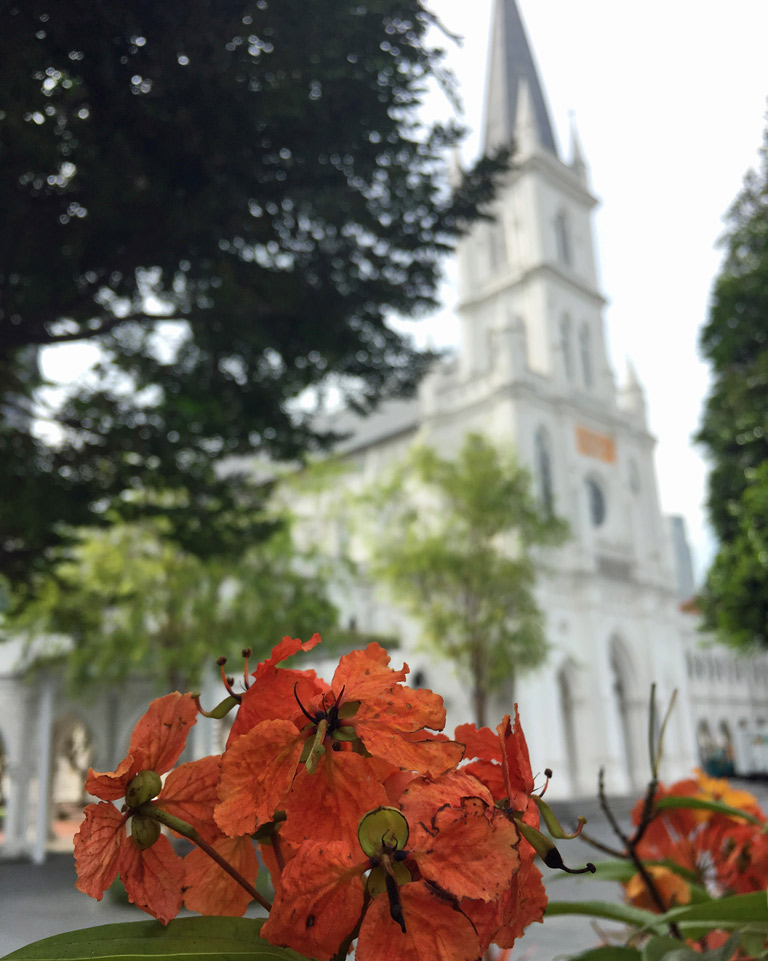 Budget Friendly Activities: CHEAP!
1. Search for cheap food. Try mall food courts. These are not a collection of fast food joints like McDonald's; they're basically local food stalls. You can eat tasty stuff cheaply here. We had a few local dishes and freshly squeezed fruit juice for about 10USD. Go to hawker centers, where local dishes are hawked at affordable prices. They're worth a trip for the food! Goreng Pisang are fun to try–battered, deep fried bananas, they're probably not going to win any health prizes, but they're unique and tasty. Go to an Indian restaurant. Generally they're cheap and very authentic. Get a scrumptious cream puff from Beard Papa! Or maybe try one of the toasts from Ya Kun Kaya Toast, the most famous kaya toast place in town, and have a coffee, too. It's cheap!
2. Pick up a few inexpensive souvenirs somewhere–we took our time and eventually found some goodies at the Bugis Market, which was hectic but entertaining, if a bit stressful with the little ones.
Things to do in Singapore on a Budget: in Conclusion
That's really it. In the case of "cheap" activities, that doesn't seem like much, does it? Still, we didn't find ourselves lacking for things to do. We loved the ease of navigating Singapore, and we liked that even if we found ourselves off track, we still enjoyed our surroundings. In fact, when it comes down to it, we didn't need to do anything particularly notable to enjoy the place. We found that its abundance of green space and general orderliness made it a nice place to simply wander around. Summing it up, Singapore on a budget is completely possible if you take advantage of the parks, don't spring for a fancy hotel or an expensive day at Sentosa Island, and you make an effort to dine at inexpensive eateries. If you want to see the one thing we splurged on while in Singapore, check out our post describing Breakfast with Orangutans.