This post may contain affiliate links. If you use them we will earn a small commission but it won't cost you anything extra
Have you been to a Legoland theme park? We'd always heard great things about these theme parks, so when we were in Malaysia during February, we decided to go. Here's what we learned about visiting Legoland Malaysia with young kids.

Practical Info about Legoland Malaysia
Legoland Malaysia is the first Legoland park in Asia (here's a good article on the history of Legoland). It was opened in 2012, and Splash Island water park was added in 2013. The Legoland Hotel – a Lego-themed hotel – was opened in 2014.  The theme park is situated in Johor, very close to the border with Singapore. It has 8 themed areas: The Beginning, Lego Ninjago World, Miniland, Imagination, Lego City, Lego Kingdoms, Lego Technic, and Land of Adventure.
Hours
The park is open daily from 10am until 6pm. On Saturdays and some other holiday, the park closes at 7pm.
Tickets
Children under 3 years old are admitted free of charge but bring their passport to prove their age. Kids aged 3-11 get a discounted ticket. Tickets can be purchased online and printed at home or bought at the gate. If you book 7+ days in advance, you get a discount.
Getting There
Legoland Malaysia is about an hour away from Singapore and about 4 hours away from Kuala Lumpur. Causeway Link operates daily buses that depart KL at 7am and leave from Legoland at 6.30pm. It's advised to book your tickets online in advance. From Singapore, one can take Singapore Flyer. At the time of writing, it has daily departures at 9am and 10.30am and leaves Legoland at 5.15 and 6.45pm.
Legoland Malaysia with a Toddler and a Preschooler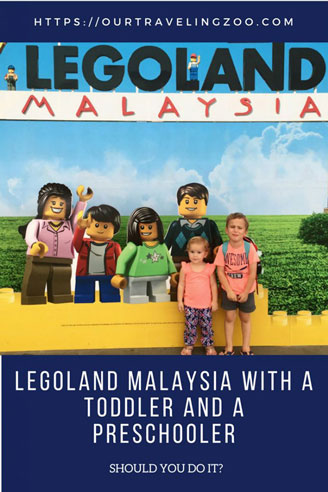 The Good
Since we were Couchsurfing in Bukit Indah, we used Grab to book a ride from our lodgings, and arrived around 9:45 in the morning. It was not crowded (possibly because it was a weekday and not a school holiday), and getting tickets didn't take long. We rented a stroller at Customer Service right inside the gate, and we found it very helpful for our 2 year old, and it also worked well. That was money well spent. The stroller has to be returned by 5.30pm.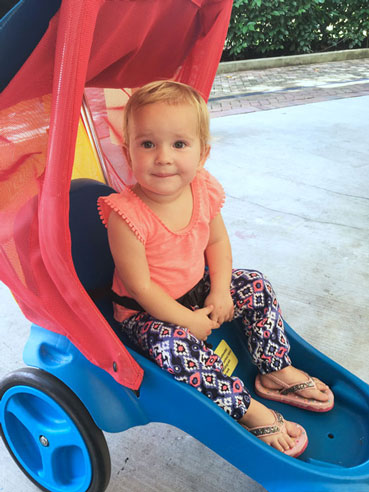 Both toddlers and adults were excited to see what lay within.
We were pleased to find that the park was divided into sections that were easily manageable. We started off at Lego City. Turtle loved the chance to drive race cars around a track in Junior Driving School (ride for kids aged 3-5). Both the kids liked floating in boats at Boating School (1 year old and up, closed on Thursdays).
Turtle and Jenia rode Lego City Airport (3+) as well, and our boy loved being able to control the height of his plane.
One of the highlights was the Rescue Academy ride (4+). Turtle and Jenia had a blast with that, as they had to cooperate to move a firetruck and spray water to put out fires, and Princess and I enjoyed spectating and cheering them on. This parent-child cooperative stuff was cool. Keep in mind that this attraction only operates from 11am until 5pm and is closed on Tuesdays and Wednesdays as of the time of writing.
For Lego Ninjago The Ride, the only ride in the Lego Ninjago section of the park, we all got to wear 3D glasses and play a big silly video game. That was all fun. This ride doesn't have a strict age restriction and all of us were able to go, including the 2-year-old.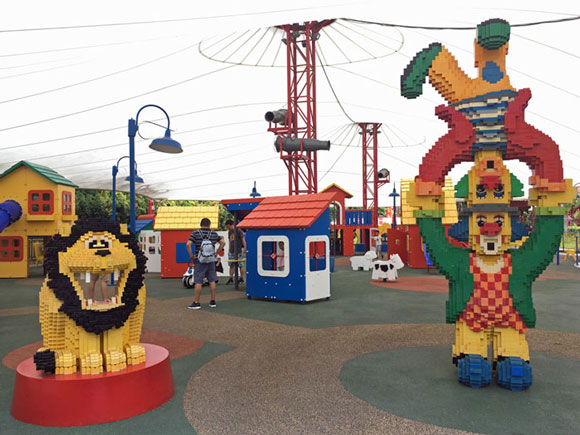 In the Imagination section of the park, the kids rushed to the Duplo Playtown – a spacious shaded playground featuring gigantic duplo bricks. They were both thrilled to ride the Duplo Express (1+) train near the playground. We grabbed bite to eat at Pizza Mania (decent but nothing to write home about) and headed to Observation Tower (1+) where we could see the whole park (about 76 acres) from above.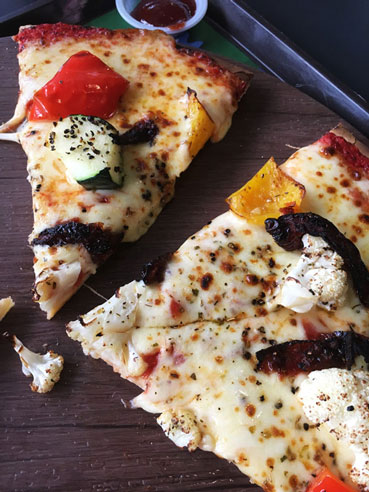 We caught a show at the 4D theater, Lego Studios, too, and enjoyed it although Princess was nervous about the water we got sprayed with sometimes! The highlight of this section, once again, was the parent-child cooperative ride: Kids Power Tower (4+).  It is a chair lift ride where Turtle and Shon had to operate a rope pulley together to go up and down.
Princess couldn't ride anything in Lego Kingdoms but Turtle was able to participate in Royal Joust (4-11). He chose to skip Merlin's Challenge Carousel (4+) but was dead set on riding Dragon's Apprentice (4+) – his first ever roller coaster. He got scared but loved it nonetheless! Both littles spent some time at the Forestmen's Hideout playground but many of its structures were too hot to the touch due to being in direct sun.
The Lego Technic section had only one ride Turtle could go on – Technic Twister (4+) – but he didn't care to try it. Instead, he headed straight to Lego Star Wars Miniland. This attraction (closed on Tuesdays) consists of 7 rooms filled with models and scenes from the Star Wars movies. There are sounds, lights, and some models move. A Star Wars loving family that we are, we had fun with it.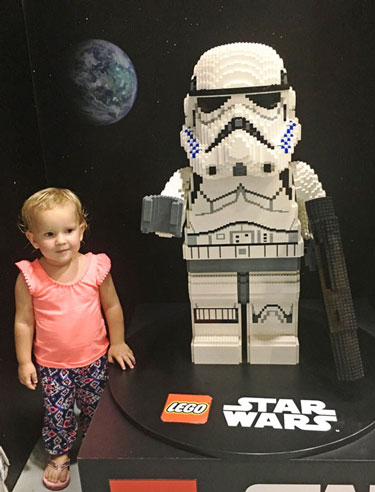 She demanded a photo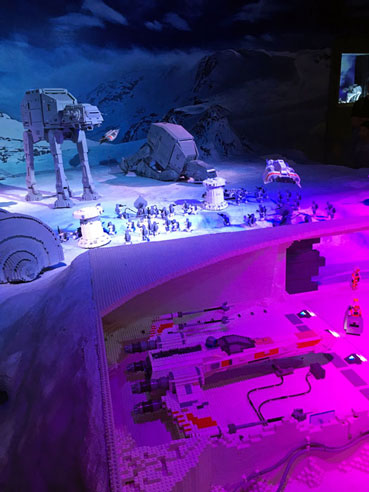 Star Wars Miniland
The last area we visited was Miniland – the central part of the park. There are no rides here, but true-to-life miniature versions of  iconic landmarks from 17 locations in Asia, all built from Lego bricks, of course. It was fun to see the Petronas Twin Towers from Kuala Lumpur since we just saw them in person, and we got a laugh out of seeing the brick version of The Patuxai Victory Monument from Vientiene, Laos (also known as The Vertical Runway). Turtle and Princess liked pushing the buttons on the displays to see what would happen.
Both of the kids were too small for some of the rides, of course, but they still had a good time. By 5.30, when we needed to return the stroller, they were ready to leave. We stopped by the Lego Store to get a Lego Christmas ornament and left the park around 5.45pm.
The Not So Good
It's Grungy
We were very surprised that there was often a layer of grungy mildew and just plain dirt on surfaces. In the air-cannon soft play area, which had some transparent plastic surfaces, the mildew was even built up so much that someone was able to scratch "fuck you" into it. The little ones were too small to read that, of course, and I was too focused on them to snap a photo, but it spoke volumes to how much the place needed a good scrubbing. Blame the mildew on the humid, tropical climate, but you'd think a place that exists to serve children would be cleaner than that.
The only exception to this were the bathrooms, which were maintained to the utmost. Judging from signs, that is a point of pride for Legoland Malaysia.
It's Not Well Maintained
The landscaping is poor. The structures are faded. On the Ninjago ride, there were shields and weapons hanging on a wall, and one had obviously been torn off, leaving a hole nobody cared to fix. The Pizza Mania restaurant also had obviously missing decorations and the vinyl benches had huge gaping holes in them. The pedal on the boat Turtle & Jenia rode wasn't working properly – an obvious case of a bad connection somewhere – but when we mentioned it to the staff at the end of the ride, they did absolutely nothing. There were a number of buttons in Miniland which did nothing, or which clearly used to make a waterfall or automobile work, but which no longer functioned.
Many Things Were Closed/Not Available
Another disappointment was the Legoland Express train. Our little Turtle was really looking forward to going for a ride around the park, but the train wasn't functioning. In fact, there was a portion of track which had been torn up and seemed to have been forgotten about. A couple of other big rides (Lost Kingdom) we were really looking forward to were closed as well.
We were disappointed to find that items on the menu at the pizza restaurant where we opted for lunch weren't available or were substituted for other things without any warning (we got stuck with chocolate pudding instead of fruit for dessert, for example).
Should you go to Legoland Malaysia with Young Kids?
It definitely depends on your family. Here are our pro's and con's:
Pros:
– It is relatively inexpensive
– It is fun for kids aged 4-8, especially if they like Legos
– The parent-child cooperation attractions/rides are rather unique and are great fun
– It is a rather small park and very easy to do in 1 day with little kids
– It is not a crowded park, there isn't much waiting in line.
– There are several eateries and Lego stores in the park
– The Legoland Malaysia staff was always friendly and helpful
Cons:
– The park is not very clean
– At the time of our visit, several rides were closed for maintenance and random areas of the park were closed off
– The park isn't well maintained: there are broken things, torn furniture, faded structures
– There are several rides that are routinely closed on certain days of the week
– There is very little to do for kids under 4 years old
– The child needs to meet both age and height requirements to be allowed on a ride. Height requirements for the same age differ from ride to ride
Given the cost and the great reputation of Lego products, we expected more. The park felt a bit run down and the layers of grunge didn't do anything to counter that impression. The rides offer a good balance of ones that are entertaining for small children and will still keep bigger kids or parents engaged. Would we go back? That's a bit hard to say. Our kids needed a day to do things they were interested in, and this was pretty good for that, but more so for Turtle. Princess, at 2 years old, is still just too small to go on many rides, although she still liked the playgrounds and the rides she could go on. In the end, we think we are open to checking out another Legoland location.
If you are looking for more fun kid-friendly things to do in the area, check out our post on Having Breakfast with Orangutans. And head over here to read about traveling with kids.