This post may contain affiliate links. If you use them we will earn a small commission but it won't cost you anything extra
Sri Lanka is the first place we traveled as a family with children. Our little boy was just a baby, barely 2 months old. Sri Lanka, if you're not familiar with it, is a lush island located off the southeastern coast of India. Our family trip to Sri Lanka was quite an adventure, as well as an affirming experience that we could still explore the world with kids.
Why Go to Sri Lanka?
Sri Lanka is a place that has amazing beaches, fabulous jungles, interesting wildlife, beautiful climbs, and splendid, spicy food. Not only that, it's an affordable destination from much of Asia, with inexpensive airfares and reasonably priced hotels. Sri Lanka is linguistically easy to navigate, too, for English is widely spoken, and people are friendly. Finally, it's not overdeveloped or packed with tourists, meaning the island nation retains its own unique character.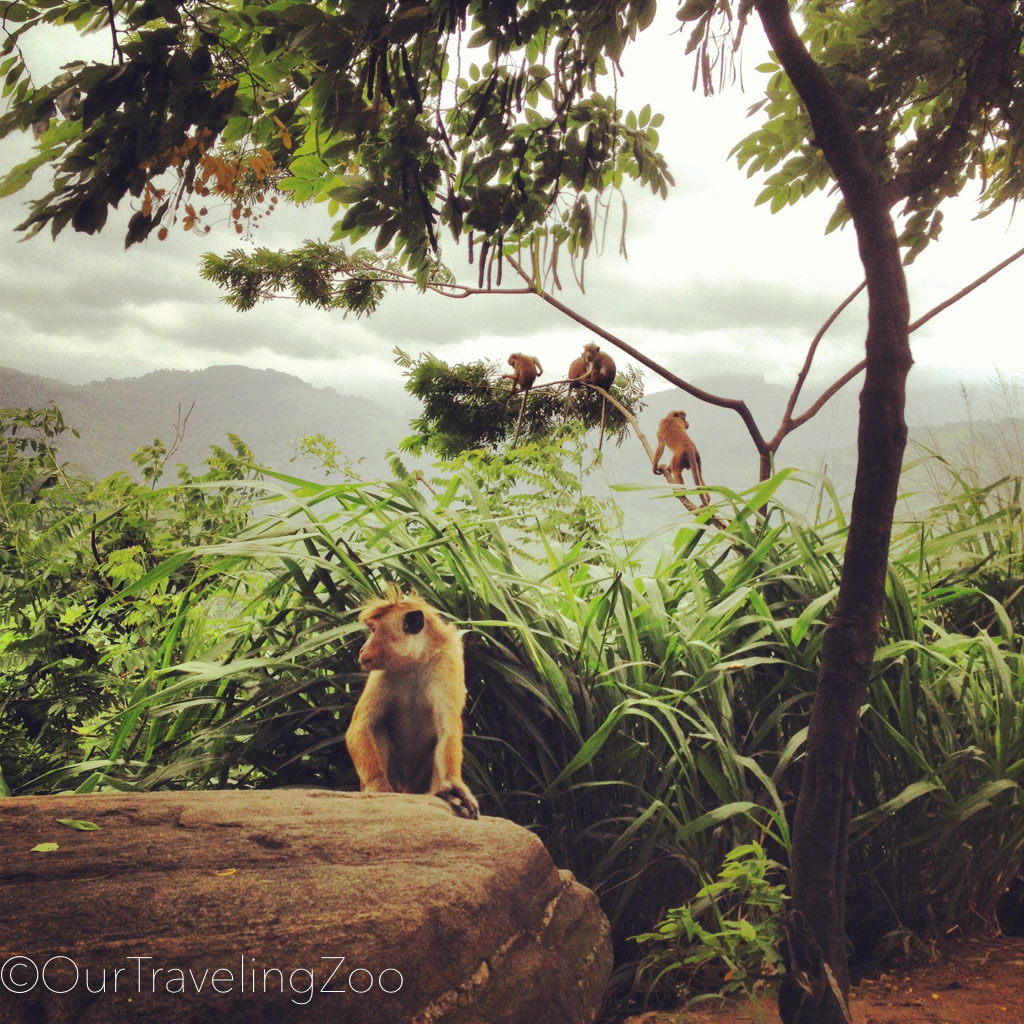 Where We Went
We heard from several sources, including a travel agent, that Colombo was nothing special, so we skipped it. With only a week at our disposal, we chose to spend our time in two cities: Kandy and Trincomalee. We had a great time in those two places, and we'd especially recommend Kandy.
What We Did
Kandy, a UNESCO World Heritage Site, has much to see. One day we took an automobile tour of three Buddhist and Hindu temples. Additionally, we visited the Temple of the Tooth Relic in the middle of town, which houses a tooth that reputedly belonged to Buddha. There is a vibrant market in town and a number of souvenir shops which are fun to peruse. One of our favorite shops was Laksala. It is government-owned and sells specifically Sri-Lankan handmade items, and it is a great place to find a quality souvenir.
There are also tea plantations on the outskirts of Kandy. The drive to them involves winding roads through the mountains, and we had a nifty low-key tour during which we learned about the picking and drying process, and got to sample some fresh Ceylon tea.
The highlight of Kandy for us, however, was a relaxed visit to the Perideniya Botanic Gardens. There, the area's astounding flora and fauna are both on display. The grounds are beautiful and well-maintained, representing a striking contrast with the generally disheveled town. Besides amazing flowers and towering trees, we saw monkeys, a huge monitor ("'water lizard,'" said our B'n'B host later; "They can be deadly. Their tail is sharp, yes, and they hit you with it."), giant fruit bats, and brilliantly colored parrots.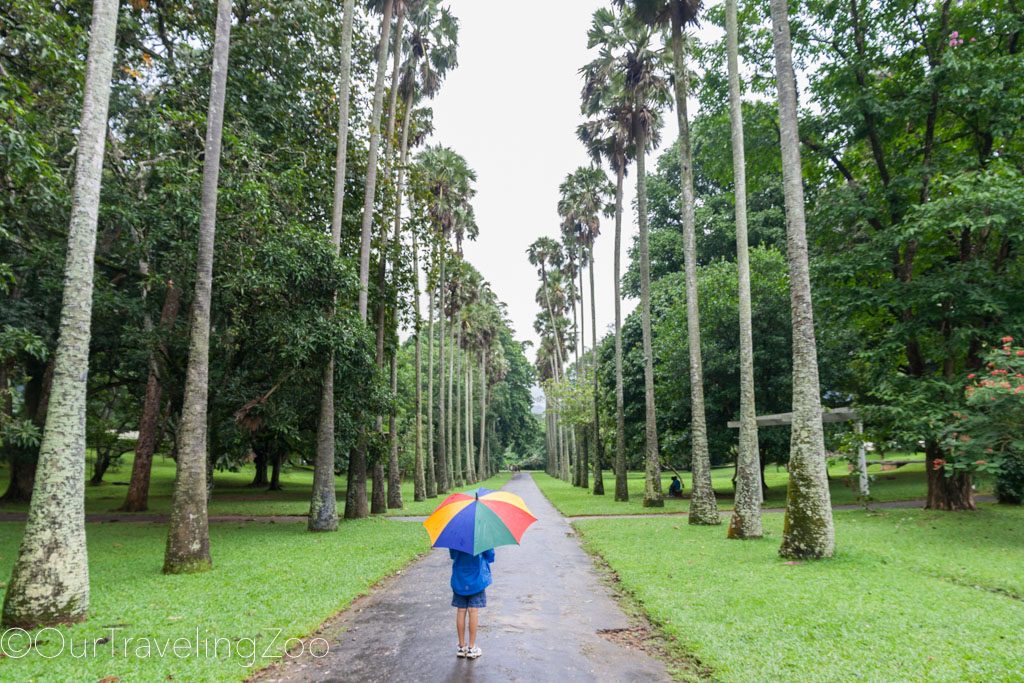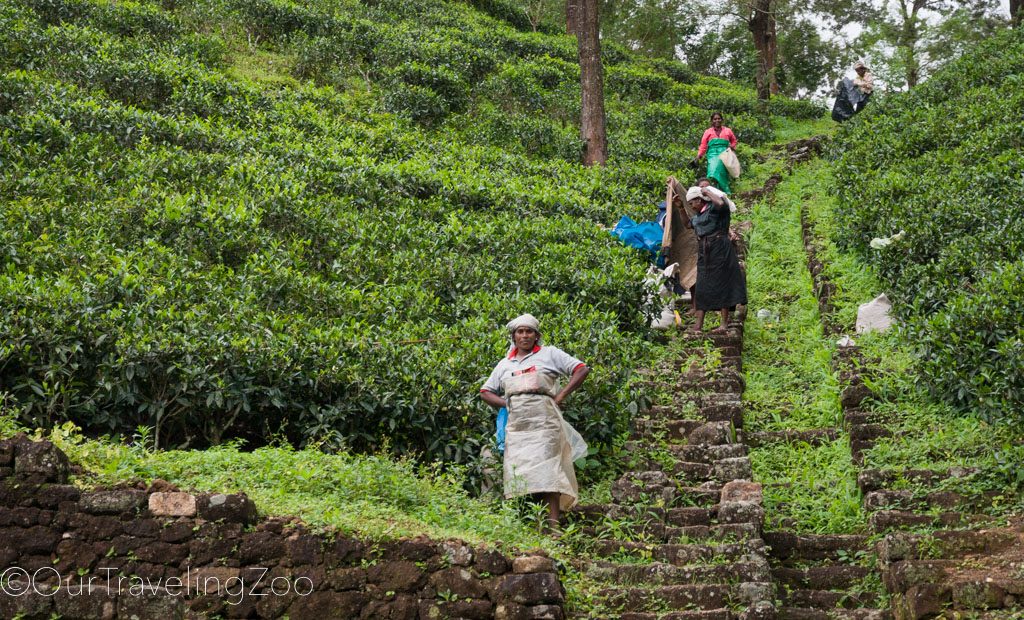 On the way to Trincomalee, we stopped at Dambulla. Dambulla (another UNESCO World Heritage Site) is deservedly well known for its cave temple and big Buddha. Getting to the top of Golden Temple requires a short hike along many steps, but it's well worth it. One detraction from the experience was the numerous vendors who hawk souvenir garbage most every step of the way. There are also lots of wild monkeys.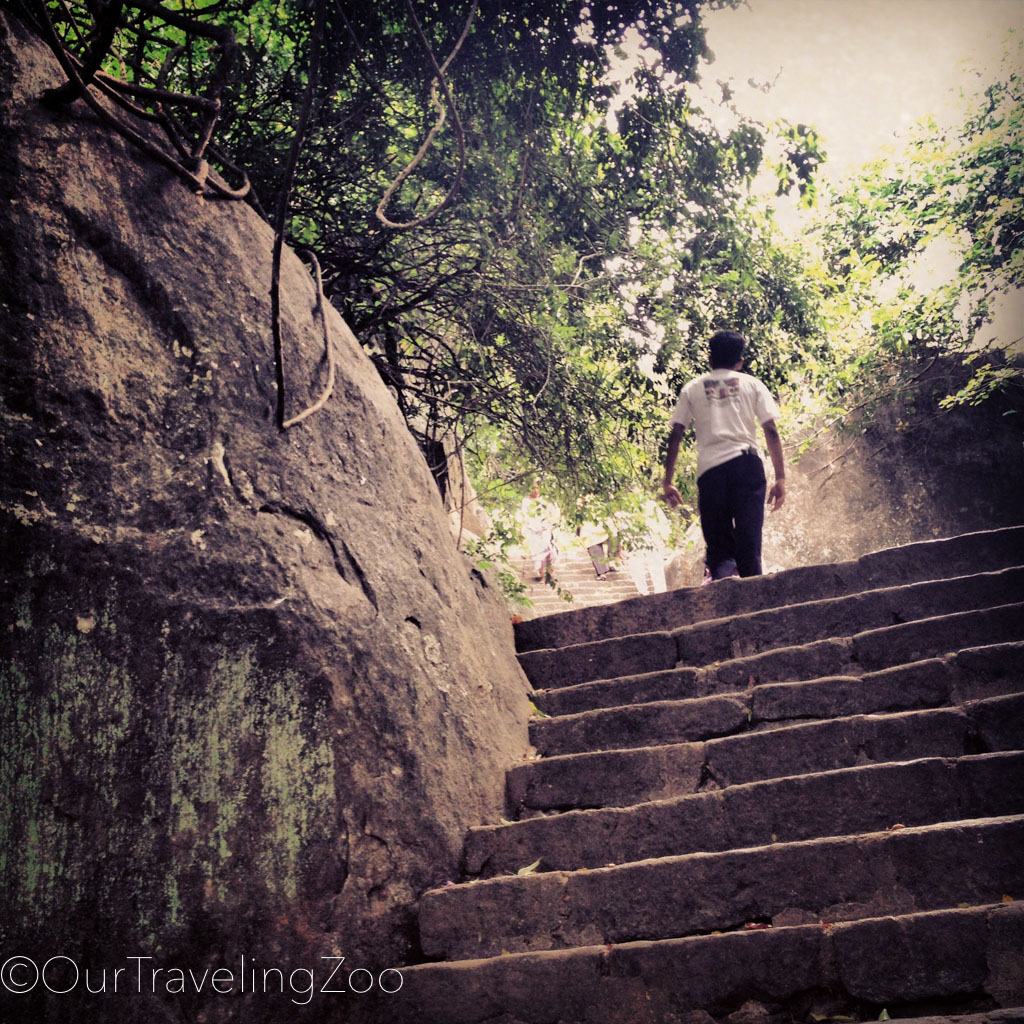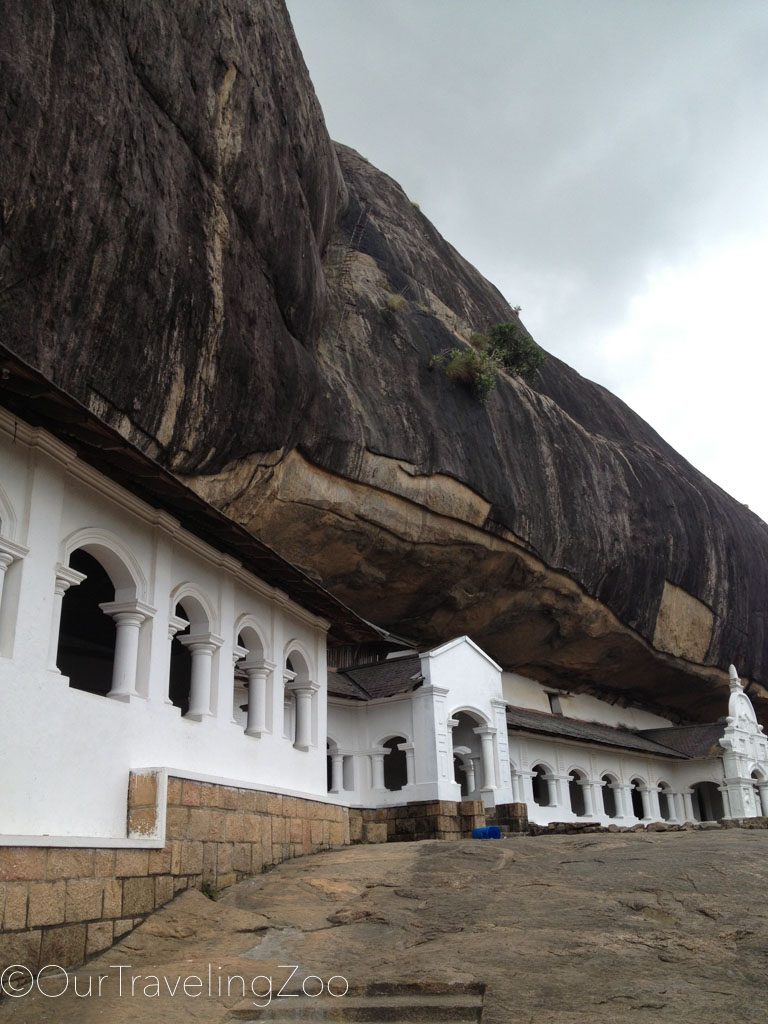 Trincomalee itself turned out to be underwhelming. We stopped and ate lunch there. It was ramshackle, sprawling, and dirty. We'd figured it would probably be developed as a tourist town, but for better or worse, it wasn't. In any case, we weren't taken with Trinco at all.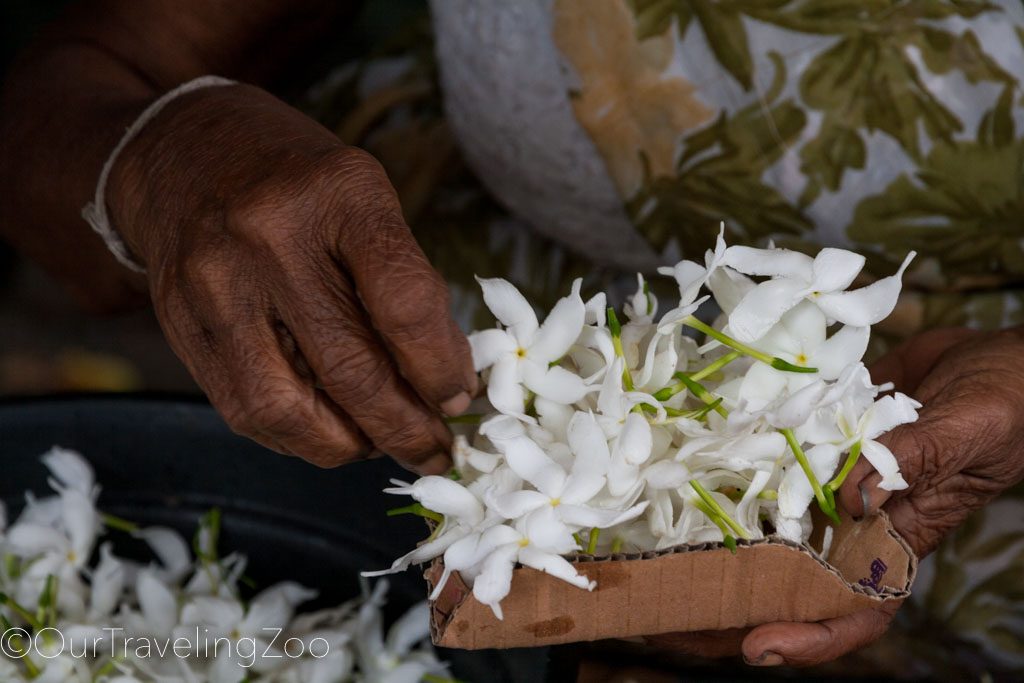 One interesting note about traveling farther north would be the appreciable cultural differences. Kandy and the areas further south are generally Sinhalese and Buddhist. Trinco and its surroundings are more like India, with Tamil language spoken and Hindu religion practiced. When we went, roadblock checkpoints from the civil war were still in existence.
Getting Around
Speaking of where we went, let's talk about how we got there. Our traveling was mostly by car, though we did take a couple of tuk-tuk rides. We planned much of our trip with the assistance of Suzy and Bhatiya at the Kandyan Manor Home Stay. They were able to help us book a friendly, informative, reliable driver who chauffeured us all over the place at a very reasonable rate. How reasonable? For comparison, we were able to hire his services for three days for about the same price as it would have cost to take a taxi to Trincomalee. It bears mention that getting from one destination to another was a time-consuming process. Roads tend to be narrow (sometimes just a single lane) and poorly maintained, therefore speeds are low. In all honesty, we found road time pretty unnerving at first, with vehicles on narrow roads seemingly bound for head-on collisions, only to mutually swerve a moment or two before colliding and then continue merrily onward. "That's how it is here," our driver told us with a shrug. Eventually we got accustomed to it.
Where We Stayed
In Kandy, we stayed at The Kandyan Manor Home Stay. We'd highly recommend it, though with a caveat or two. Let me introduce the place, because it seems pretty special: to get to there, the driver took roads so narrow I wasn't sure he could make the final turn, the driveway was so close to a rock wall. But he did, and the vehicle motored through a beautiful lane where vines and trees formed a canopy over the pavement. And there was the picturesque house. It sits atop a hill, jack trees with their huge cruel-looking fruit hanging off, and mist rolling through, hills beyond barely visible. Suzy, one of the owners, gave us a warm reception, and showed us to our room. Now, since our stay, the Kandyan Manor has been upgraded a bit, so the caveats may not apply. Based on our experience, though, the drawbacks were thus: there was a somewhat mildewy smell, and as there was no air conditioning and this is a humid area, the sheets felt a tad damp from all the moisture in the air. We got used to it quickly, though. The delicious food cooked by Suzy, the lush jungle just outside our door, and the friendliness and helpfulness of our hosts made up for whatever the room might have been lacking.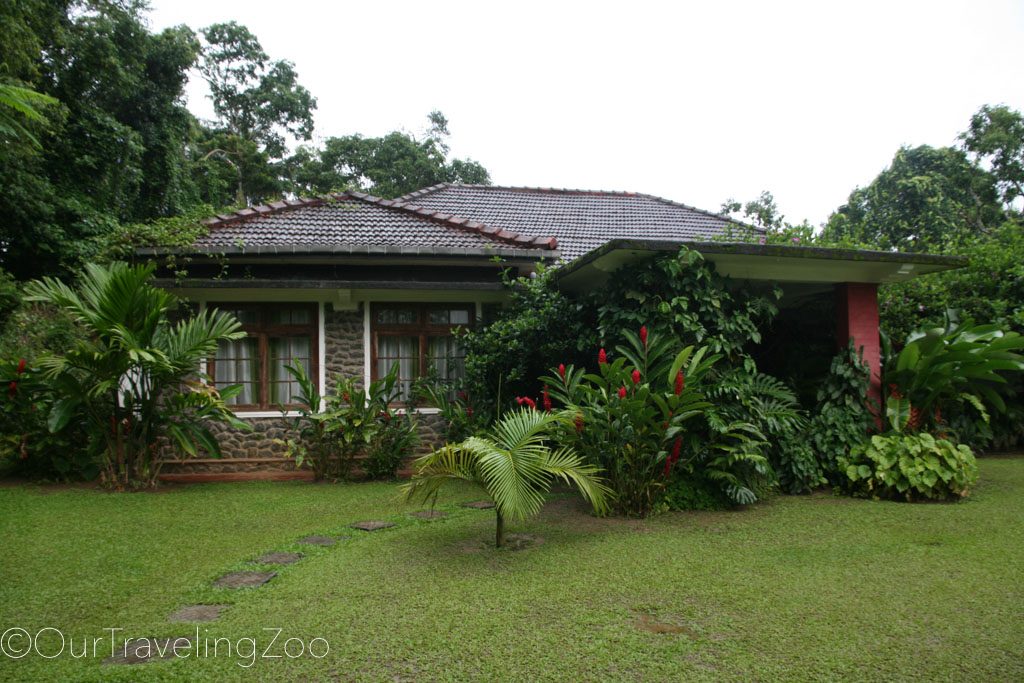 We stayed at two different hotels in the area of Trincomalee: Seaway Hotel, and the Pigeon Island Beach Resort.
The budget beach front hotel we'd reserved, Seaway Hotel, was actually in Nilaveli, a bit away from Trinco, and we were disappointed with it. Despite a picturesque setting, our room was decorated with a huge circle of mildew on the wall and furnished with little else. The restaurant had a minuscule menu with one vegetarian item on it, and on top of that, the public beach was strewn with garbage, populated with over-friendly locals who wouldn't let us be, and, also cows. Yes, cows. A note about the over-friendly locals: it was hard to tell who was trying to sell us something (many people wanted to be our guides for a small fee, you understand) and who was genuinely interested in saying hello. Jenia even told one guy off, and yet he persisted in talking to me, and as it turned out, he was honestly just friendly. He was very proud to say he'd lived in the Emirates, like us, and he even showed me his UAE driver's license. This can be fun, depending on your mindset, but it can also be hard to bear when all you want is to chill and enjoy the sand and the surf.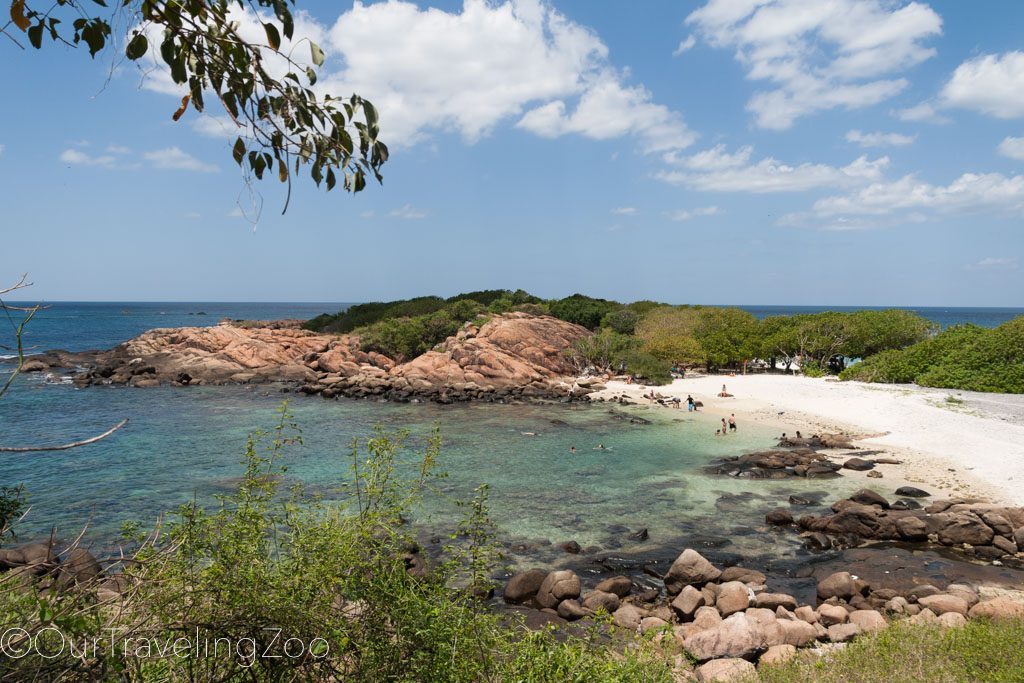 After one night at Seaway, we moved to the Pigeon Island Beach Resort, and it was a fantastic improvement. It had clean, well-maintained premises, and the room was furnished and decorated normally, including a TV set. The restaurant had tasty food with plenty of choices, and the beach was groomed so that it looked pristine. Here we could relax. Besides relaxing, Shon did a snorkeling trip to Pigeon Island, while Jenia stayed with the baby and splashed in the swimming pool. The snorkeling was fabulous, with clear water that yielded fabulous views of coral and colorful fish. This was the beach experience we were hoping for. Incidentally, our driver was most excited when he found out we'd switched hotels. "They have driver's quarters," he said. "Very nice."
What to Eat in Sri Lanka
As for food, in Kandy, we strongly suggest getting kotta at Muslim Hotel and tea cookies at Bake House. Kotta is something uniquely Sri Lankan, so don't miss it. Yum! If you get a chance, try the local yogurt made with water buffalo milk as well.
What Not to Eat
We were told, while in Kandy, that it's wise to avoid eating meat stuffed pastries (not that we would, anyway, as vegetarians), which often are allowed to sit out for much too long.
What We Would Do Next Time
Ella is up high in the mountains, and a scenic train ride takes passengers from Kandy. We have friends who made the trip, and they thoroughly enjoyed it. The six hour train ride is something special in itself, and Ella is renowned for being tea country; the plantations there are supposed to put those in Kandy to shame. While we've never used this company, it looks like tickets are available online through them. Should you purchase tickets through them, let us know what your experience is like.
Sigiriya is an ancient fortress with a great rock in the center. Sigiriya is really not far from Dambulla; in fact, we could even glimpse the top of the huge rock that sits in the center of it at one point. Passing up a visit was hard.

If time had allowed, we would have certainly gone to the southern coastal city of Galle, well known for interesting places like the Galle Fort, still another UNESCO World Heritage site. Again, we have friends who visited and thought Galle was great.
Was Traveling Sri Lanka with a Baby Hard?
In short, no, traveling with a baby in Sri Lanka wasn't hard. At this young age, Turtle mostly just needed to be close to us, so the setting didn't really matter. In terms of how we managed, we put our Boba Air carrier to use for the first time extensively on this trip, and our little Turtle loved it. He could sleep and relax easily whenever he wanted. We'd recommend you bring a carrier as well, because with lots of stairs and roads and iffy sidewalks, we suspect a stroller would be more problematic than useful. After lots of research, we didn't bring a car seat with us. None of the vehicles we used had seat belts in the back and most didn't have room for a carseat. One adaptation we made was being a bit more cautious of mosquitoes than usual, and we applied plenty of bug spray to make sure our infant didn't get chewed up.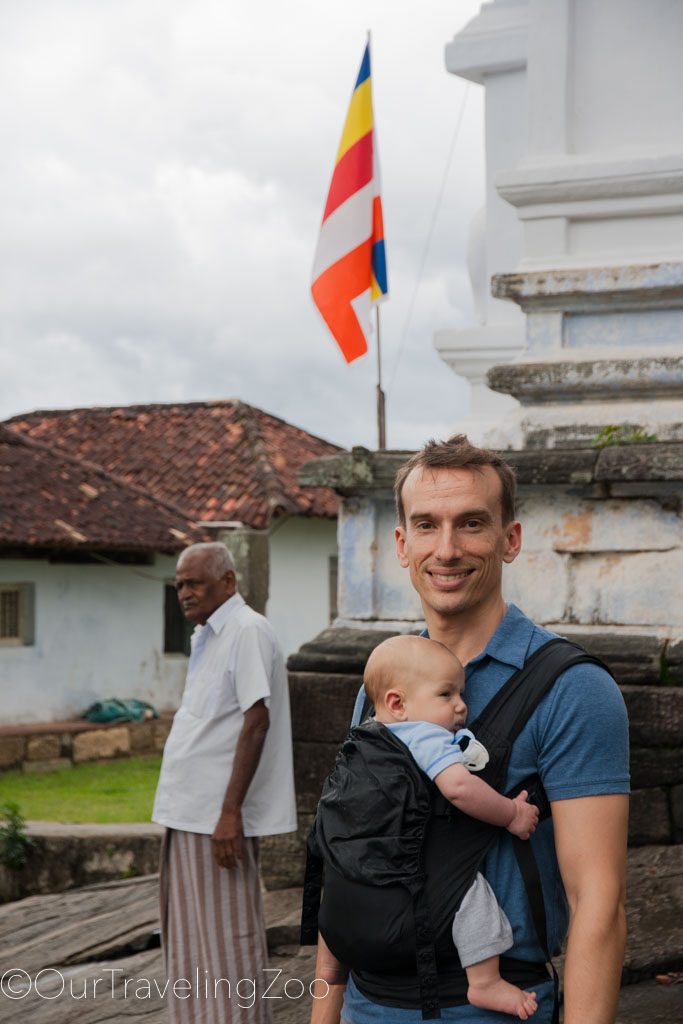 What to be Aware of
The Sri Lankan power grid isn't always reliable, and sometimes the lights will go out if there is a storm. We had tea by candlelight once as a result, and we actually quite enjoyed it. Seasonal weather patterns also should be considered; it can be monsoon season on the southern coast, for example and yet still be pretty up north.
Conclusion
Sri Lanka was our first family trip with a child, and it taught us how easy it would be to travel with our baby. Sri Lanka has much to see, and it is a very interesting destination for many reasons, not the least of which is its fantastic, lush scenery. We loved Kandy and enjoyed beach time up north. If we go back, we'll definitely visit places like Galle to get a fuller experience of the country. We found Sri Lanka to have a unique and welcoming character, and we think anyone up for an adventure would have a blast as well.
You can head over here if you'd like to read more about traveling with kids.